Will Malaysia Buy Pakistan's JF-17 Fighter Jet?
Pakistan has been in "primary talks" with Malaysia over the procurement of the JF-17 fighter jet.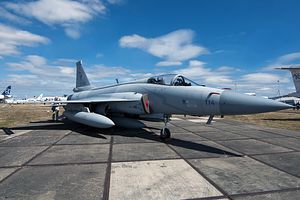 Pakistan and Malaysia are purportedly engaged in preliminary talks over the possible procurement of an unknown number of Pakistan Aeronautical Complex/Chengdu Aerospace Corporation (PAC/CAC) JF-17 "Thunder" multirole fighter jets, a PAC official told IHS Jane's at the Defense Services Asia (DSA) 2018 exhibition in Kuala Lumpur on April 16.
"We are aware of the potential requirements in Malaysia for cost-effective fighter aircraft," the PAC official said. "There have been no serious talks but through government-to-government channels there have been what we can describe as primary level talks about the JF-17 program."
Malaysia purportedly expressed interested in the JF-17 in 2015. However, reports that the Royal Malaysian Air Force (RMAF) was considering purchasing the aircraft were quickly publicly denied by the Malaysian defense ministry at the time.
The RMAF initially intended to procure 18 new fighter jets to replace aging Mig-29 combat aircraft and supplement its fleet of twin-engine F/A-18D and Su-30MKM fighter jets. However, the acquisition program was shelved due to budgetary constraints in 2017.
Instead, the RMAF has reportedly been considering cheaper lightweight multirole fighters with a number of countries already positioning themselves for a future competitive bidding process. Next to Sweden's JAS-39C/D Gripen, China's J-10, and Russia's Mig-35, the JF-17 would likely be the cheapest option for the RMAF.
The production of the JF-17 has been split up into three blocks: Block I, Block II, and Block III. Malaysia would receive the Block III variant of the aircraft with production slated to kick off in 2019. (50 Block I and 50 Block II aircraft have been produced so far with 12 more of the latter to be rolled out in 2018.)
The JF-17's most advanced variant will feature various upgrades in comparison to the earlier versions "including Active Electronically Scanned Array (AESA) radar, which will replace the older Nanjing Research Institute of Electronic Technologies' (NRIET) KLJ-7 X-band fire control radar, and a new electronic warfare system, among other things," I summarized in 2017.
"Powered by a Russian designed but Chinese license-built Klimov RD-93 (a RD-33 derivative) turbofan engine, [the JF-17] can reportedly reach a top speed of up to Mach 1.6 and has an operational range of up to 1,200 kilometers without refueling," I explained in previously. The fighter jet, featuring seven hardpoints, can be armed with a variety of weapons including air-to-air, air-to-surface, and anti-ship missiles.
What perhaps could make the JF-17 particularly attractive to the RMAF is that its engine is also in use in the Mig-29 and for which the service already has repair and maintenance facilities in place. This would further reduce overall operational cost of the new aircraft for the cash-strapped Malaysian military.