South Korea F-35A Pilot Flies First Solo Mission
A Republic of Korea Air Force F-35A pilot took to the skies for the first time this week.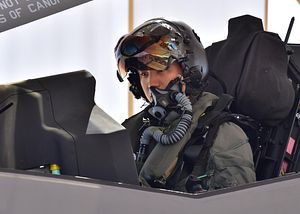 A Republic of Korea Air Force (ROKAF) F-35A pilot conducted his first solo mission aboard a F-35A Lightning II fifth-generation stealth fighter jet at Luke Air Force Base in Arizona on July, the U.S. Air Force said in a statement.
Following months of intensive academic, simulator, and hands-on training, Major Kiyun Jung embarked on his maiden flight – -the first solo flight by a ROKAF pilot with a F-35A fighter jet. He is the first student in the South Korean chapter of flight training for the five years Foreign Military Sales (FMS) program. (Two more classes of ROKAF students are slated to be trained as F-35A pilots in the coming years.)
"This flight is a huge milestone for the Republic of Korea, and for us to be a part of that is an amazing honor because we realize the magnitude of this event for both countries," said Lieutenant Colonel Eric Puels, 944th Operations Group Detachment 2 commander, the unit responsible for conducting flight training. "For us to be able to forge these relationships and get to know these pilots during their journey toward fifth generation airpower is incredible."
The first F-35A Lightning II fighter jet destined for ROKAF was rolled out in March of this year at a Lockheed Martin production facility in Fort Worth, Texas. The F-35A is the stealth fighter's multirole conventional takeoff and landing variant. The first South Korean F-35A was delivered to Luke Air Force Base from Fort Worth earlier this year.
The Republic of Korea and U.S. government officially signed a Letter of Offer and Acceptance for the purchase of 40 F-35A fighter jets in September 2014 under the Pentagon's FMS program. Total acquisition costs are estimated at around USD$7 billion. All forty ROKAF F-35As will be assembled at Lockheed Martin's production facility in Fort Worth.
The F-35As manufacturer, U.S. defense contractor Lockheed Martin, won the $7 billion contract by offering 25 technologies used on the F-35A to support South Korea's indigenous $15 billion KF-X fighter program. However, the U.S. government did not share four key F-35A technologies including active electronically scanned radar, the infrared search-and-rescue systems, the electro-optical targeting pod and the radio frequency jammer, which detrimentally affected bilateral defense relations for a while.
Under the KF-X project, South Korea and Indonesia have agreed to jointly develop a indigenous stealth fighter jet with the ROKAF expected to receive up to 120 fighters and the Indonesia Air Force between 40 and 80 aircraft by the late 2020s.
The first ROKAF F-35A will be deployed to South Korea in 2019 with the entire delivery expected to be completed by late 2021 or early 2022). The stealth fighter jets will be stationed at Cheong Ju airbase. As I reported in December 2017, the Republic of Korea's Defense Acquisition Program Administration has allegedly initiated the procurement process for an additional 20 F-35As.