India's Air Force to Receive 4 More Tejas Light Combat Aircraft in March 2019
India's Ministry of Defense revealed this week that four more Tejas light combat aircraft will be delivered to the Air Force next month.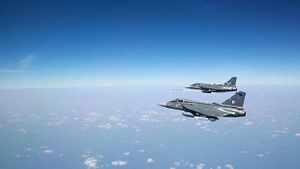 India's Ministry of Defense (MoD) announced on February 11 that state-owned Hindustan Aeronautics Limited (HAL) will deliver four more Tejas light combat aircraft (LCA) to the Indian Air Force in March 2019 bringing the total number of Tejas fighters operated by the service to 16.
All the Tejas aircraft delivered are in initial operational configuration or capability (IOC), which means the fighter jet meets the minimum requirements for operational deployment by the IAF. "Till date, out of total 16 IOC fighter aircraft, 12 fighters have been delivered to IAF," the MoD said in a statement. "HAL plans to deliver the balance 4 IOC fighter aircrafts by March, 2019."
The MoD placed an order for 40 Tejas LCA Mark-I with HAL including eight tandem two-seat LCA trainer aircraft divided up into two batches in 2006 and 2010 respectively. While the first batch of Tejas aircraft is to consist of IOC fighters, the second batch of aircraft are expected to be delivered in final operational clearance (FOC). However, to date the Tejas LCA FOC status has not been cleared by the Indian Aeronautical Development Agency.
As I noted previously, the IAF has repeatedly emphasized that the Tejas Mark-I variant does not meet the service's specifications and operational requirements:
The IAF has listed several technical deficiencies found on the Tejas LCA Mark-I variant in 2017. These flaws will purportedly will be addressed in later variants of the aircraft, which will include 43 improvements over the existing version.

Upgrades will include an advanced active electronically scanned array (AESA) radar system, a new electronic warfare sensor suite, and a new externally refueling capability.
Notably, HAL and Israel Aerospace Industries (IAI) subsidiary Elta Systems signed a contract for the purchase of 83 ELM-2052 active electronically scanned array (AESA) radars and ELL-8222WB electronic warfare (EW) suites to be integrated with the Mark-IA in October 2018.
The IAF is also considering placing an order for 83 additional Tejas LCA, including 73 single-engine Tejas LCA Mark-IA, and 10 tandem two-seat LCA trainer aircraft. HAL announced in November 2018 that it will set up a new production facility at Nashik in Maharashtra by 2020 to increase its annual output of Tejas aircraft from eight to 16 per year. To date, HAL has not met the eight aircraft per annum quota agreed to with the MoD.
HAL is also working on another more advanced Tejas variant, designated Tejas Mark-II. The IAF could order as many as 200 aircraft of this latest version of the light fighter jet. However, the Tejas Mark-II will not be ready for its first test flight for at least another five years while foreign aircraft makers are pushing into the Indian military aircraft market offering cheaper and more capable alternatives.