Pakistan Kicks Off Sixth Iteration of AMAN Multilateral Naval Drills
The exercise brought together representatives from 45 countries.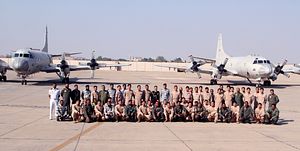 This week, Pakistan began the sixth iteration of a five-day multinational naval exercise known as AMAN 2019 (Urdu for "peace"). The exercise began with a ceremony at PNS Mehran, the Pakistani Navy's main training naval air station, near Karachi. This year's iteration is expected to last through February 12.
According to Pakistan, representatives from 45 regional and extraregional navies sent some kind of representation to the exercises. Participating national navies included the U.S. Navy, the British Royal Navy, and the Japan Maritime Self-Defense Force.
Pakistan has held the AMAN series of multinational naval drills since 2007. The exercise focuses on counterpiracy, counterterrorist, and countersmuggler operations and this year's iteration is no exception. The exercise takes place over two phases, with one taking place at harbor and another at sea.
Vice Admiral Muhammad Amjad Khan Niazi, the commander of Pakistan's naval fleet, delivered remarks at the onset of the exercise.
"Like any maritime nation, Pakistan has substantial stakes in the maritime domain," he said. "Our interest in safer and crime-free seas is rooted into three conspicuous realities: 1) Our extraordinary dependence on the seas for trade, 2) Operationalization of CPEC [China-Pakistan Economic Corridor] project; and 3) Our strategic location astride the global energy highway."
A release from Pakistan's Inter-Services Public Relations shed light on Japan's participation in this year's AMAN exercises. The Maritime Self-Defense Force had dispatched two P-3C Orion to PNS Mehran for the exercises.
"Japanese aircrew participated in various events including Search & Rescue (SAR) and Counter Piracy (CP) Exercises along with Pakistan Navy aircrew," the ISPR statement noted.
Japan's participation was also noted to evidence intention in Tokyo to deepen military interoperability between Japan and Pakistan. "Visit by Japanese aircraft is reflective of strong mutual desire to improve the level of coordination and interoperability at operational and tactical level [all sic]," the ISPR statement noted.
"It is believed that JMSDF aircraft visit to Pakistan will further foster Navy to Navy relations and will go long way in improving friendly relations and give impetus to diplomatic & military ties between Pakistan & Japan."
Tokyo has made the Indo-Pacific a cornerstone of its foreign policy in recent years. The Japanese Navy has made regular deployments to the Indian Ocean region in recent years to participate in port calls, exercises, and other activities.
Japan, however, has a close defense relationship with Pakistan's rival, India. Since 2015, the Japanese Maritime Self-Defense Force has joined the United States and India as a permanent member of the Malabar naval exercises.