Foxconn CEO Terry Gou Says a Sea Goddess Has Told Him to Run for President
Gou's entry into Taiwan's 2020 presidential race further clutters a field packed with larger-than-life personalities.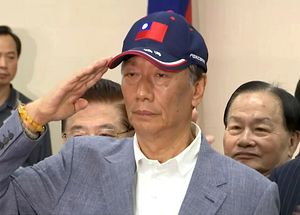 Foxconn founder Terry Gou added more drama to Taiwan's scintillating presidential race when he announced on Wednesday that, per the request of the sea goddess Mazu, he would enter the Kuomintang (KMT) primary.
Gou is Taiwan's richest man, known internationally for founding and chairing the company that manufactures iPhones. His entry into the race throws yet another curveball into a campaign that will see incumbent President Tsai Ing-wen challenged by notable opposition figures as well as her former premier, William Lai, in her own party's primary.
Long a brash and politically vocal public figure, Gou's candidacy could inspire voters who believe his business acumen could translate to delivering economic successes to Taiwan – a path also forged by Kaohsiung Mayor Han Kuo-yu, who has become the KMT's most popular national figure despite thus far declining to announce his intention to run for president.
Gou announced on Tuesday he would withdraw from day-to-day operations at his company, which trades internationally as Foxconn but is known in Taiwan as Hon Hai. The next day, Gou visited a temple consecrated to Mazu and claimed the sea goddess had approached him in a dream and instructed him to "step forward and do something for the people of Taiwan."
The KMT welcomed Gou's announcement, which appears to have the backing of party chairman Wu Den-yih – himself a potential presidential candidate in the upcoming election. Han Kuo-yu, meanwhile, is more closely allied to former legislative speaker Wang Jin-pyng, a longtime rival of Wu who announced his own presidential candidacy in March.
Gou, who Forbes estimates possesses personal wealth exceeding US$7 billion, may have been inspired by the successful presidential run of Donald Trump in the United States. In 2017, Foxconn announced it would invest billions in a TV plant in Wisconsin, staffed by thousands of workers. At the time, Trump called Gou "one of the great businessmen of our time." The plant has since been reimagined as a R&D lab that would employ a fraction of the originally promised workers.
The 2017 announcement was especially significant as Foxconn has based the bulk of its manufacturing in China, a fact that has drawn inevitable attention to Gou's ties to Taiwan's cross-strait neighbor.
Tsai's Democratic Progressive Party (DPP) has taken a firm stance toward abating Chinese influence after Chinese leader Xi Jinping delivered a January speech advocating a "one country, two systems" framework of governance for Taiwan. While major KMT figures disapprove of such a governmental model, the party favors closer economic ties with China and has since floated the idea of a cross-strait peace treaty – a nonstarter for the China-skeptical voters who swept Tsai into power in 2016.
But the KMT made massive gains in November's regional elections, and Tsai's approval ratings have plummeted amid what voters have perceived as a stagnant economy.
Gou believes he could be the man to answer the concerns of voters. "I must do everything I can to help those who are struggling," he said on Wednesday.
Gou has not yet formally entered the KMT primary, and questions remain over his eligibility; his party membership reportedly lapsed in 2000, although he re-registered on Tuesday.
Gou earned the goodwill of the KMT in 2016 when he granted the party, strapped for cash due to government investigations of its assets, an interest-free loan of about US$1.46 million in his mother's name.
The tycoon has already caused controversy during his brief presidential flirtation. On Tuesday, Gou accused DPP legislator Hsiao Bi-khim of being "rude" after she allegedly failed to make eye contact with him when answering a question he had asked at an American Institute of Taiwan (AIT) forum. "She not only dared not face me, but also dared not face the Republic of China," Gou shouted before storming out, according to Taiwanese state media.
Foxconn's shares jumped on the Taiwan Stock Exchange on Thursday as company executives insisted that Gou's withdrawal from day-to-day operations would not affect normal operations.
Regardless, Gou's impact in a crowded KMT field is far less certain. Wang Jin-pyng and former New Taipei Mayor Eric Chu have already announced their intention to run. Independent Taipei Mayor Ko Wen-je has also been tipped to potentially enter the race.
Aside from his characteristic brusqueness, Gou could bring to the race a cross-strait policy that analysts say could be more "pro-unification" than any the country has seen in the past, owing to his significant business interests in China.
Gou said on Wednesday that, should he lose the nomination, he will support the eventual KMT candidate. The path to determining that candidate, however, now promises to be anything but smooth.