The Khorgos Hype on the Belt and Road
Despite lofty ambitions, Khorgos is less transformative than its proponents believe – and yet it does illustrate some of the promise of the BRI.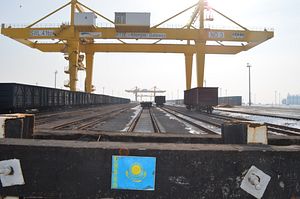 Since its announcement at Nazarbayev University in Kazakhstan in 2013, what has become known as China's Belt and Road Initiative (BRI) has prompted a host of analyses and critiques from academics, reporters, and pundits worldwide. Its boosters trumpet the massive potential benefits to nations across the developing world — and to the global economy — from improved infrastructure and connectivity; its skeptics cast the program as a cynical way for China to gain leverage and influence in a host of often small and impoverished states. The vague but grand scale of the BRI only intensifies speculation around the initiative. China has promised to spend $1 trillion on projects, but it is difficult to calculate how much has already been spent or what projects fall under the BRI umbrella. (CSIS makes a highly useful attempt to catalog BRI projects in its database.)
The dry port and special economic zone at Khorgos, on the border between China and Kazakhstan, has been repeatedly portrayed as an archetype of a BRI infrastructure project in media accounts. The International Center for Business Cooperation (ICBC) there, a visa-free and duty-free mall set between the two nations, is packed with Kazakhs looking for discount deals on Chinese goods, yet the main story in Khorgos is the dry port of Khorgos Gateway. Thanks to the dry port, trains can carry goods from eastern China to Western Europe in around two weeks, versus a several week journey by container ship or vastly more expensive shipping by air. 
I arrived at Khorgos on a frigid and hazy January morning to see three giant rail-mounted gantries glide up and down the lengths of freight trains arriving from China and load them onto trains waiting on the Kazakh tracks. Images of the three cranes rising from the desert, backed by the snow- capped Dzungarian Alatau range, have become a staple of BRI articles; one of the most remote places on earth transformed into a transnational infrastructure hub. Khorgos is, in fact, close to the Eurasian Pole of Inaccessibility, the farthest point on the Eurasian continent from any ocean.
Khorgos falls neatly into both Chinese and Western narratives about the BRI; it is a large, visible infrastructure project squarely positioned along the historical Silk Road that serves the purpose of physically connecting East and West. Perhaps for this reason, media and think tank coverage of the Belt and Road often uses Khorgos as Exhibit A. The South China Morning Post gushingly calls it "the new Dubai" and (erroneously) dubs it the largest dry port in the world. I was gently corrected on this point when I visited. "There are many, many larger dry ports in the world; this is perhaps the biggest one in Central Asia," said Khorgos Gateway's chief engineer. Others speculate that it might become the "Rotterdam of the future." An extensive New York Times profile calls Khorgos a "flagship project of the Belt and Road" and "an unlikely harbinger of the interconnected planet" that the BRI will usher in.
To be sure, the progress that Khorgos' builders and operators have already made is impressive. Khorgos Gateway's productivity has skyrocketed in just the four years since construction began; it now handles over 180,000 TEUs a year, and Hicham Belmaachi, the port's chief operations officer, told me that he expects this to increase to 500,000 TEUs by 2023. In addition to the railway terminal and the ICBC, a new highway crossing from China to Kazakhstan opened in November 2018, and plans are underway to develop both sides of the border into cities of hundreds of thousands of people.

Yet despite the progress, lofty ambitions, and significant media attention, Khorgos is actually a much less transformative project than its proponents believe. Much of the buzz about Khorgos suffers from a lack of understanding of the scope of the project; at the moment, Khorgos is less of a global hub for trade than a regional rail terminal to ship Chinese goods to Russia and Central Asia. Eighty percent of the goods shipped through Khorgos go to the countries of the former Soviet Union, and 35 to 40 percent go to Uzbekistan alone. The number of containers that actually make it all the way to Western Europe is a minute fraction of the millions of containers carried annually by ship from China to European ports. Even once Khorgos is at full capacity (and there are signs that this may take longer than China and other stakeholders hope), its operators do not expect it to account for more than 1 to 2 percent of the total trade in goods between China and Europe. This is certainly not negligible, but it is hardly a world-transforming impact.
Moreover, the profitability of Khorgos remains very much in question. China offers massive subsidies of up to 40 percent of the shipping cost for goods that travel through Khorgos by rail. The Carnegie Endowment for International Peace reports that "rail freight" from China to Europe via Central Asia "is currently not economically viable without Chinese government subsidies." China is shelling out a lot of money to encourage trade through Khorgos, and it is not making very much from the port's operations. China and China-affiliated entities have a relatively low stake in the dry port and its associated logistics and industrial centers. While COSCO owns 49 percent, the majority share in the dry port is held by the Kazakh state railways corporation, and the port itself is operated by DPWorld, a Dubai-based publicly traded company. Unlike many BRI projects, Khorgos was funded by the Kazakh government, with no loans from China, and built by Kazakh workers.
For all these reasons, the conventional narrative surrounding Khorgos is wrong. The dry port is not the keystone of China's plans to transform the world and dominate the 21st century; it is a well-conceived medium-sized infrastructure project that has nonetheless not yet proved financially viable. Nor is Khorgos representative of most other BRI projects. It is efficiently run (by a non-Chinese company), it has a clear rationale, and China is unable to exert much leverage over Kazakhstan via Khorgos, as it is not a lender, builder, operator, or majority owner of the dry port. A few hundred miles south of Khorgos, the Bishkek Power Plant and its ugly saga of corruption, ineptitude, and Chinese strong-arming makes it a far better example of the BRI as it all too often manifests itself.
However, if Khorgos is not representative of the BRI as a whole, perhaps it offers some lessons for host countries of BRI projects about what the BRI can be at its best. Thanks to Kazakhstan's relative wealth and its own vision for modernizing, Khorgos is a largely Kazakh project in which China is a partner but not a master. Kazakhstan has therefore avoided many of the pitfalls of the BRI, such as China's infamous "debt-trap diplomacy," while still reaping the benefits of Chinese cooperation and investment. A Belt and Road directed more by local leadership and less by Beijing really could live up to Xi Jinping's rhetoric of the BRI as a "mutually beneficial" and "win-win" initiative.
Sadly, many leaders of host countries have neither the resources nor the political vision to take charge of their future. Lured by seemingly cheap Chinese loans and, perhaps, opportunities for graft, they sign up to costly projects that will benefit the Middle Kingdom far more than their own countries. If the world takes a lesson from Khorgos, then, it should be not that the dry port will transform the world or lead to Chinese dominance — it will not — but that the BRI really can be harnessed for the interests of host countries. Khorgos is not a microcosm of the BRI, but it is an exemplar of the BRI done right.
Henry Ruehl is an investment analyst at Princeton University's endowment and a recent Princeton graduate; he wrote his thesis on the impact of Chinese and Russian economic and political influence in Central Asia.