US Looks to Central Asia to Stand Up to China on Xinjiang
Washington's messaging is aimed both at Beijing and Central Asian capitals.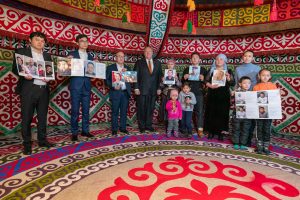 In one of the pictures, U.S. Secretary of State Mike Pompeo stands inside the beautifully carpeted yurt on the grounds of the U.S. Embassy in Nur-Sultan, the Kazakh capital, surrounded by solemn-faced ethnic Kazakhs holding up photographs of their loved ones who have vanished into China's "re-education" camp system in Xinjiang.
Speaking in Washington a few days later, Ambassador Alice Wells, principal deputy assistant secretary for South and Central Asia, called the meeting "extremely moving." Wells, who accompanied Pompeo on his recent visit to Kazakhstan and Uzbekistan and returned to speak at the official launch of the new U.S. Central Asia strategy, said the family members of those who met with the secretary "were being, frankly, tortured, detained and brutalized in a detention system that too much of the world has sought to ignore."
On Twitter, Methmet Volkan, a volunteer with Atajurt (who wrote a piece for The Diplomat last month detailing the organization's work), explained that Pompeo met with some of the group's long-time testifiers. Volkan laid out the stories, in tweet-sized chunks, of the people present in the photograph.
RFE/RL's Aigerim Toleukhanova asked Pompeo about Xinjiang in her interview with the secretary, highlighting that "Kazakhstan and other countries whose very ethnic minorities are trapped in Xinjiang say that these are internal issues of China."
Pompeo answered by stressing that "we've made clear to both the Chinese Government and in my visit today we've made clear to the government here in Kazakhstan our expectation that everyone will be treated properly and appropriately, and that what's taking place there is certainly not that."
He went on to comment that "the Kazakhstani Government has done good work; it hasn't repatriated people back to China that the Chinese Government had asked them to, and we're happy about that. But we know this is a problem that's got to be taken care of. These basic, fundamental human rights are important."
Lisa Curtis, deputy assistant to the president and senior director for South and Central Asia at the National Security Council, closed her remarks at the recent launch of the new U.S. Central Asia strategy by addressing Xinjiang as an "urgent issue":
We are calling on Beijing to end the campaign of repression and to immediately release the over 1 million individuals who are being arbitrarily detained. 

And we stand by the Central Asian nations that face pressure to deny refuge to those fleeing this religious persecution. It is these countries' sovereign right to help those who ask for assistance and its also a fundamental obligation of all law-abiding nations to refrain from returning asylum seekers to face certain persecution or punishment.
In addition, as Human Rights Watch has pointed out: "As a party to the 1951 Refugee Convention it is a violation of Kazakhstan's treaty obligations (see art.31) to impose penalties on refugees for illegal entry." 
In several relatively high-profile cases, Kazakh courts have decided to decline the option of deporting ethnic Kazakhs who crossed into the country from Xinjiang illegally (given that the passports of the individuals involved had previously been seized by Chinese authorities, illegally was the only way to cross the border). But at the same time, the courts have issued jail sentences of varying lengths. Nur-Sultan has not make the path to asylum easy. 
The most prominent case in this regard is that of Sairagul Sauytbay. After having her asylum application denied in October 2018, she appealed the decision but to no avail. In June 2019, Sauytbay left Kazakhstan for Sweden, where she has been granted asylum.
That Kazakhstan is walking a tightrope on the Xinjiang issues is clear, and there's not necessarily an easy path available for Nur-Sultan. For the time being, the government appears to balance its decisions not to deport ethnic Kazakhs with lengthy delays and denials of official asylum thereafter.
Kazakh authorities have also, in the last two years, put pressure on Atajurt. The group's founder, Serikzhan Bilash, was charged with incitement and accepted a plea deal in order to avoid prison last August. Bilash has reportedly returned to working with Atajurt, but cannot take up his previous leadership of the organization. Atajurt, the group that gathered together the people who met with Pompeo, remains unregistered. A splinter group was registered by the state, in what regional observers saw as a clear effort to co-opt and stall the group.
In this light, Pompeo's statements and meetings in Nur-Sultan, as well as comments from Wells and Curtis, can be seen as messaging with at least two audiences. China is clearly the primary and direct audience for these comments, but Kazakhstan is the second audience (as are, arguably, the rest of the region's governments). As it wrestles with balancing Chinese pressure, the touchy domestic dynamics surrounding the Xinjiang issue, and now Western pressure, too, Kazakhstan remains in a tough position.