Why Is Anti-Chinese Sentiment on the Rise in Central Asia?
Central Asia could become a spoiler for all of Beijing's big Belt and Road ambitions.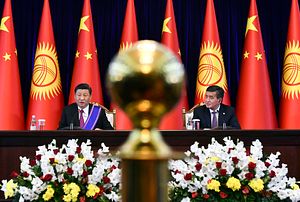 On October 1, thousands of Chinese diaspora scattered across Central Asia and beyond celebrated their National Day with flag-raising ceremonies and parades. In China, these celebrations included a large military parade, showcasing new weapons and the country's latest technology. But beyond China's borders, amid these choreographed projections of national unity, the festival atmosphere has been disrupted by re-emerging, widespread anti-Chinese sentiment among the Central Asians. 
Amid China's reorganization of the social fabric of the region, its growing presence and influence have been previously described as defensive, Beijing's growing clout and economic developments for the last two decades have given it considerable leverage over the regional order and national narratives.
Chinese interests and activities in Central Asia have been part of a carefully crafted plan. Initially, Beijing sought to demilitarize the borders, which was followed by a crackdown on the Uyghur community, the creation of a collective security framework through the Shanghai Cooperation Organization, the building of infrastructure and communications systems in the region, and finally an influx of soft power. 
However, Beijing's presence in Central Asia is at times controversial, and rife with confusion and complications. Simply put, the Chinese have become, in part, a scapegoat for local grievances — economic and employment woes — and a focal point for sensitive cross-border issues such as the oppressive treatment of Mulsim minorities in China and accusations of debt-trap diplomacy.
China's Dominance and Dept-Trap Diplomacy
Chinese dominance in the region has raised major debates about high-level corruption and demands for transparency in government financial activities, especially regarding expenditure of Chinese grants and loans. Borrowing from Beijing, in particular, has accelerated in the last decade.
Chinese finance as part of lucrative Belt and Road Initiative projects has provided major opportunities for Central Asian states which need considerable investment to maintain growth rates. But this opportunity carries equal amounts of risk. A 2018 report listed Kyrgyzstan and Tajikistan among eight countries which might be vulnerable to "debt distress" given China holds 41 percent and 53 percent of the countries' respective debts.
Whilst Kyrgyzstan appears to be faring relatively well given that most of its debt is long term, Tajikistan's relationship with China has deepened the country's dependence on Beijing considerably. Dushanbe had to recently defend a decision to give a mine to China in exchange for a power plant which earned the government the public's ire. The concession for the mine came with an exemption from taxes on revenues and customs duties for equipment brought to Tajikistan. One expert noted this increasing dependence on China and said the agreement "effectively takes control of our mineral resources."
This sort of arrangement appears with consistency in Beijing's relationship with Tajikistan. When Tajikistan cannot repay its loans, it sells off land and grants China other concessions. In 2011, Tajikistan ended a border dispute by ceding land in a deal believed to have been agreed to in exchange for debt relief. Shortly after that, more land was given to 1,500 Chinese farmers in Tajikistan which one Tajik sociologist said would open the doors to China's growing "influence in politics." The situation is exacerbated by the fact that much of the money obtained from Beijing goes to the Tajik regime's vanity projects, like the world's tallest flagpole, the region's largest theater and a new parliament complex.
The issue of debt dependency intensifies when the question of imported labor from China becomes more acute. According to some figures, in 2018, more than 30,000 Chinese migrants came to Kyrgyzstan, many of whom worked as construction workers on BRI-funded projects. Tajikistan has also faced growing public discontent. Unofficial data claims that there are 150,000 Chinese migrant workers in the country. 
Like many countries around the world, Central Asian states that were previously dependent on Russian investment (which pales in comparison to Chinese offerings today), are now gravitating toward Beijing. But whilst relatively cheap and quick financing from Asia's ascending power might seem attractive, these agreements come at a cost. In January, Kyrgyz police detained over a dozen people during what has been described as the "biggest public protests to date" in Central Asia. The protesters were demanding that fewer work permits be given to Chinese workers. Last month protests which began in Kazakhstan's industrial town of Zhanaozen struck a popular chord, spreading to Almaty, over Chinese construction projects.
Muslim Crackdown in East Turkestan
Regional Sinophobia has reached its highest level in light of China's "counterextremism" policies in Xinjiang and its systematic, widespread, mass incarceration of Uyghurs and other Muslim minorities in the region. A Kazakh citizen testified about the existence of "re-education camps" in western China, saying that thousands of ethnic Kazakhs are forced to "dehumanizing indoctrination at these camps."
Reports state that and estimated million detainees have been placed in camps in Xinjiang, including roughly 22,000 ethnic Kyrgyz and 10,000 ethnic Kazakhs. Putting aside their fears, in 2018 relatives of detainees took to the streets and protested, appealing to the Kyrgyz president with regard to unlawfully detained ethnic Kyrgyz. Though families demanded released and reunification, their requests were denied with blanket statements that Bishkek cannot interfere in Beijing's "internal affairs" and prefers to use diplomatic channels instead of open rebuke.
Rising Sinophobia is hot topic for discussion, but less mentioned is Beijing's fostering of Sinophile circles in neighboring countries. China has been successful in co-opting sectors of the intellectual and political elite in many post-Soviet states, often via educational opportunities and business ventures. Amid this complex background, Central Asians are aware of the intrinsic weaknesses of their states vis-a-vis China and continue to closely follow what is going on across the border.
For now, the "Chinese question" provides a kind of catharsis — a focal point for frustration and tension built up over the, at times rapidly changing and tumultuous, last three decades in Central Asia. But it is also within this context of intensified animosity toward China that Beijing now struggles to find the means to both further and then protect its own national, strategic, and economic interests in Central Asia. If growing public outrage about China in Central Asia translates into changes in government policy, the region could become a spoiler for all of Beijing's big BRI ambitions.
Aruuke Uran Kyzy currently works at TRT World Research Centre as a researcher and a journalist.