A Kazakh Dilemma as Beijing Reportedly Seeks Deportation of Former Camp Detainees
As Beijing seeks deportations, ethnic Kazakhs strive to remain out of China's grasp.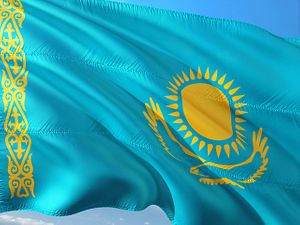 After making an appeal via video on December 26, a Kazakh woman who had been detained in Xinjiang in 2017 and subsequently fled to Kazakhstan in 2018 told Radio Free Asia (RFA) that she was at risk of deportation back to China. 
RFA, which has reported extensively on the Xinjiang crisis, covered Gulzire Awulqanqizi's detention in Xinjiang back in May 2019. From RFA:
Speaking with RFA following her video appeal, Awulqanqizi said she learned from a source who she declined to name that she had been added to a list of people Beijing had asked the Kazakh government to return to China, although she acknowledged that she had not received any official notification about a potential deportation from Kazakh authorities.

"It's possible that they'll send me back to China after the start of 2020," she said.

"The source who told me this said, 'We've already received a list with your name on it and there's a chance you'll be sent back to China after the New Year, so you should seek help from a lawyer,'" she added, suggesting that the source is someone with knowledge of  Kazakh immigration affairs.

"I'm looking for assistance wherever I can find it."
Awulqanqizi's claims fit within the broader context of Nur-Sultan's wrangling with how to manage its relationship with Beijing while also keeping a lid on the potential domestic blowback from deporting ethnic Kazakhs.
Sayragul Sauytbay is the most prominent ethnic Kazakh to have escaped Xinjiang into Kazakhstan. Hers was the first case to gain significant international attention in 2018 after she was arrested for illegally crossing the border. Her trial put on record in public view information about the system of internment camps for Uyghurs and other Muslim minorities, which the Chinese government at the time denied even existed. A Kazakh court declined to deport her,  but she was subsequently unable to gain asylum in Kazakhstan. She left for Sweden in June 2019 and soon after spoke even more openly about her experience. 
Sauytbay was not the first or last ethnic Kazakh to escape into Kazakhstan. Many ethnic Kazakhs in Xinjiang have family connections across the border, in part a product of the Kazakh government's oralman, or returnee, program, which sought to draw ethnic Kazakhs back to the state after its independence in 1991 and ease their path to citizenship. Sauytbay's husband and children, for example, had already gained Kazakh citizenship while she retained Chinese citizenship and worked in Xinjiang prior to her detention. 
Other, more recent, cases underscore an uneven Kazakh policy when it comes to those who have crossed the border illegally, fleeing Xinjiang's camps and the Chinese authorities. For example, in late December, a court in the southeastern town of Zharkent sentenced Qaisha Aqan, who crossed into Kazakhstan in May 2018, to a six-month jail term but ruled that she could remain in Kazakhstan. RFE/RL's report noted that she was married to a Kazakh national.
Two ethnic Kazakh men, Murager Alimuly and Qaster Musakhanuly, sought asylum in Kazakhstan in October 2019. Shortly after crossing, they held a press conference in which they spoke about their experiences with persecution and detention in Xinjiang and announced they were seeking asylum. They were soon arrested by Kazakh authorities. The pair were granted asylum-seeker status but in early December Darkhan Dilmanov, the deputy chief of Kazakhstan's National Security Committee, said they would be deported. Such reports rallied support for the two men among Kazakh civil society and opposition political groups.
Kazakh authorities arrested two members of Atajurt, a group focused on bringing attention to the plight of Kazakhs detained in Xinjiang, in December; many believe their detention was linked to a press conference they'd held pressing the Kazakh government to reconsider plans to deport Alimuly and Musakhanuly.
Alimuly and Musakhanuly's trial was set to begin on January 6, but has reportedly been rescheduled to January 21 amid intense attention.
And this brings us back to Awulqanqizi. She told RFA that she has applied for Kazakh citizenship (she has a Kazakh green card) but has been repeatedly denied, with immigration officials warning her that her visa would expire soon. Awulqanqizi said she has not received any official communication regarding a pending deportation but was told by a source (whom she declined to name) that her name was on a list of those Beijing had asked the Kazakh government to return. 
The forcible return of refugees or asylum seekers is known as refoulement and  non-refoulement clauses are baked into various international human rights treaties, such as the 1951 Convention Relating to the Status of Refugees, to which Kazakhstan is a party.
Awulqanqizi's case in particular brings to light the capriciousness of Kazakhstan when it comes to the Xinjiang matter. Nur-Sultan's strategy appears to be centered around a pair of competing interests: irritating Beijing the least and keeping domestic attention away from the issue itching at the border. But sating the former risks aggravating the latter.