Japan Rejects Lockheed Martin Plans for Next-Generation Fighter Aircraft
The Japanese Ministry of Defense has rejected proposals by foreign manufacturers to develop a new fighter aircraft, according to a government spokesperson.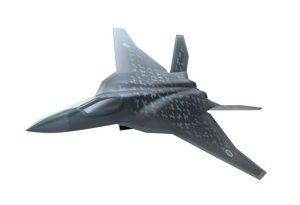 Japan has rejected proposals by foreign aircraft manufacturers, including Lockheed Martin, to develop a next-generation combat aircraft based on existing designs under the F-X future fighter program, according to a spokesperson of the Ministry of Defense's (MoD's) Acquisition, Technology & Logistics Agency (ATLA).
"Based on previous discussions, the option of 'developing derivatives of existing fighters' cannot be a candidate from the perspective of a Japan-led development, and the MoD has come to the conclusion that we will develop a new model, and also this has been communicated to Lockheed Martin," the ATLA spokesperson was quoted as saying by Jane's on 1 April.
"We recognize we have built up enough technology to make a fighter development project possible domestically."
U.S. aircraft maker Lockheed Martin, next to other foreign defense contractors, had submitted a design proposal for a twin-engine air superiority fighter jet that combines the F-22 Raptor multirole fighter airframe with the F-35 Lightning II Joint Strike Fighter electronic suite. Japan's Ministry of Finance, however, reportedly rejected the proposal as too expensive. As I noted previously:
The U.S. government has expressed its willingness to share sensitive computer code used to operate the fifth-generation Lightning II F-35's avionics and mission systems with Japan as part of Lockheed Martin's pitch to co-develop the new fighter aircraft.

(..)

In detail, the U.S. has expressed its willingness to release the software installed in the F-35 to control parts including the aircraft's engine and the missiles.
Japan had also expressed interest in the BAE Systems Tempest Future Fighter Aircraft project, which aims to design and deploy a sixth-generation stealth fighter for the Royal Air Force (RAF) by 2035.
International collaboration, however, is still possible as outlined in the MoD's Mid-Term Defense Program (MTDP)."It is not necessary for Japan to do all of the development works alone, and it is important to further improve technological reliability and reduce cost by having partner nations share some of the development work while securing the principle of 'Japan-led development,'" the ATLA spokesperson told Jane's.
Japan is expected to determine a "preliminary framework" outlining its partnership strategy, both domestic and international, by December 2020.  Japan's military aircraft industry would in particular benefit from international collaboration in developing the aircraft's mission system and next-generation engine. Both Lockheed Martin and BAE Systems will likely play a substantial role in the F-X future fighter program.
ATLA unveiled an experimental fifth-generation fighter technology demonstrator, dubbed X-2 "Shinshin" (formerly the ATD-X), intended to serve as the blueprint for the F-X fighter, in 2016.
Japan's MoD released the first "conceptual image" of the F-X fighter in January of this year.
The MoD plans to procure up to 100 new fifth-generation air superiority fighters by the end of the 2030s. The aircraft will replace the Japan Air-Self-Defense Force's (JASDF's) Mitsubishi F-2 fighter aircraft.