Calls for India to Play the Taiwan Card Grow Louder
As tensions simmer between New Delhi and Beijing, some have called for India to focus on developing stronger relations with Taiwan.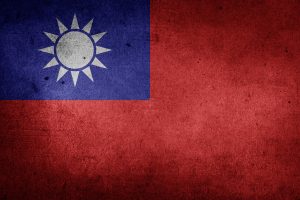 Amid the continuing border standoff, there is increasing public antagonism toward China in India. This matches growing anger among Indian elites toward China and India's current China policy, which I wrote about last week. This is leading to more public discussion about possible asymmetric diplomatic strategies to challenge China, such as altering India's "one China policy" to enhance India's relations with Taiwan. 
For example, a prominent Indian national newspaper, Indian Express, editorialized in May that India should be pragmatic in considering the question of Taiwan's observer status in the World Health Assembly: the decision "should not be made either out of peevishness or fear." The editorial argued that New Delhi should judge the issue on "apolitical appreciation of the specific technical issues involved." Thus, though the paper did not call for changing India's general policy on China and Taiwan, it was a reflection of the growing debate about the general unhappiness with India's ultra-cautious policy when it comes to China. 
Other opinions have been much more insistent. The Times of India, editorializing on the same issue, asked the government to "not shy away from supporting Taiwan." The editorial went one step further than the Indian Express by saying that this should remain an important aspect of the reform of the World Health Organization (WHO). It also argued that India should stop being "overly deferential to Beijing" when China has routinely worked against Indian interests in the UN and other multilateral organizations. The Times of India concluded that "if Delhi is to get itself taken seriously, it must demonstrate that it can stand up and be counted."  
It should be noted that this is not the first time that the Times of India has taken such a stand on Taiwan. In 2019, in the wake of Chinese threats to Taiwan, the paper put out an editorial arguing that India should step up its cooperation with Taiwan. It also made reference to a 2018 Indian Parliamentary Standing Committee report on India-China relations, which called for stronger partnership between India and Taiwan, adding that it was strange that India has shied away from cooperating with Taiwan, whereas Taipei and Beijing had active trade and investment ties despite their political disagreements.  
Such views are finding greater traction. Sana Hashmi, formerly a consultant with India's Ministry of External Affairs and currently a Taiwan Fellow at the Institute of International Relations, National Chengchi University in Taipei, argued for a stronger role for Taiwan in India's Indo-Pacific strategic construct. She suggested that the recent Sino-Indian border clash in Galwan was an apt moment for India to start engaging with Taiwan more seriously.  She cautioned, however, that India-Taiwan ties should not be approached just through the China angle, but that Beijing's recent behavior has provided an opening for developing greater traction in relations between New Delhi and Taipei.  
Echoing similar sentiments, Namrata Hasija, a research associate at the Delhi-based Centre for China Analysis and Strategy, asserts that India must stop seeing Taiwan through the China lens that gets activated every time there is tension in Sino-Indian ties.  Instead, she argues that it is time for India to develop independent ties with Taiwan across economic and strategic sectors.  
Highlighting that Taiwan was one of the first countries to send medical equipment to India, former diplomat G. Parthasarathy also made the case for India to strengthen its relations with Taiwan. He added that Taiwan offers opportunities for cooperation in several key sectors, especially in India's semiconductor industry, which could also possibly reduce India's reliance on China in the electronics and communication industries. He added that this also fits well with the general objective of other Indian strategic partners such as the United States, Japan, and South Korea in diversifying global supply chains.  
This, of course, is music to the ears of Taiwanese electronic industry giants such as Foxconn, which have wanted a stronger presence in India. Amid the border standoff, Foxconn's Chairman Liu Young-Way, while speaking at its annual general meeting, portrayed India as a "bright spot" for the company's growth and expansion. He said that the Foxconn is "fully pushing ahead with next steps there, and maybe in a few months' time we can reveal on our website the next steps and report back to everyone. We'll have further investment there." Currently, Foxconn has most of its factories in China and possible entry into India will form part of the recent plans of many industries to shift their base out of China. Others are less sanguine and worry about the consequence of Sino-Indian tensions on their businesses. 
Understandably, Taiwanese opinion supports closer ties with India. For example, Taipei Times called on Taiwan to "deepen ties with India, in particular economic, military and intelligence ties, to contain Chinese expansionism and put Xi back into his box."  This also fits well with President Tsai Ing-wen's New Southbound policy which has a particular focus on India. 
It is unlikely that the extremely cautious Modi government will accept such suggestions. But the calls for greater engagement with Taiwan are a clear sign of popular and elite Indian anger and frustration in dealing with China.