Team Biden's Policies on China and Taiwan
To understand a possible President Biden's China approach, we need to look at the views of his likely advisers.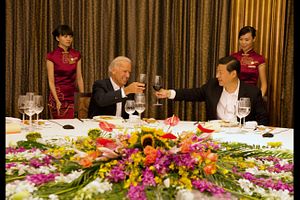 In a previous article on The Diplomat, I reviewed former United States Vice President Joe Biden's past position on Taiwan-related issues. Decades of experience in the Senate Foreign Relations Committee made Biden one of the core foreign policy advisers to President Barack Obama. As a U.S. presidential hopeful, Biden, despite being a foreign policy hand himself, still needs assistance from other advisers. Biden's current lead in the polls makes it more imperative for political analysts to examine the potential composition of his shadow foreign policy team and the positions its members take on various issues.
It is even more interesting for us to have a closer look into the national security talent behind Biden as we may be witnessing a new remaking of the former vice president's image when it comes to China. Biden has long been featured as a champion of the U.S. engagement policy with China and strategic ambiguity on Taiwan. Commenting on President Donald Trump's trade war against China last May, Biden questioned if China is going to "eat our lunch" and asserted that China is "not competition for us."
Over the past year, Biden's position on China has undergone a tectonic shift as he takes a tougher stance on China's human rights violation and strategic competition with the United States. Both presidential candidates are looking to make China a central feature of the race. President Donald Trump suggested that China is "desperate to have Sleepy Joe Biden win the presidential race," while a Biden-approved ad says Trump "got played" and "lost" to China.
During the Democrat presidential primaries, Biden called China's President Xi Jinping, who is also the general secretary of the Chinese Communist Party (CCP), a "thug" for having "a million Uyghurs in 'reconstruction camps' [sic] meaning concentration camps." Biden also said he had challenged China's no-fly zone claim by threatening to fly B-1 bombers through it. After Beijing imposed the new national security law in Hong Kong, Biden vowed in a statement to "prohibit U.S. companies from abetting repression and supporting the Chinese Communist Party's surveillance state" and to "impose swift economic sanctions" should freedom of speech of U.S. citizens and entities be harmed. Also, Biden was one of the first prominent U.S. politicians congratulating Taiwan's President Tsai Ing-wen on her re-election and inauguration.
Such a change did not happen overnight. And the process of Biden's change seems synchronized with that of many former officials under Democratic presidents, including his colleagues from the Obama administration. The individuals discussed here are not necessarily in Biden's campaign, but it is no surprise that Biden's campaign strategies and, should he be elected president, national security policies will be heavily influenced by a number of policy experts from a specific talent pool. Already Antony Blinken, Jake Sullivan, Susan Rice, Samantha Power, and the Donilion brothers, all prominent figures in the Obama administration, have been reported to have roles in the Biden campaign. In addition to reviewing Biden's past record, observers will have a more comprehensive understanding of the potential Biden administration's China and Taiwan policies by looking at the perspectives and suggestions likely "Team Biden" members have on related issues.
China: Changing Views, Evolving Solutions
Until very recently, the general impression shared by many former officials under Democratic administrations was that China is a rising autocracy with increasingly aggressive behaviors, but not necessarily an enemy to the United States. In an open letter titled "China is Not an Enemy" published on July 3, 2019, around 100 former officials and scholars argued that Beijing is not an economic enemy or an existential national security threat to the United States that must be confronted in every sphere — despite China's "troubling behavior" in recent years. High-profiled signatories of the letter include several senior foreign policy officials under the Obama administration like Deputy Secretary of State James Steinberg, Director of Policy Planning in the Department of State Anne-Marie Slaughter, Assistant Secretary of State Kurt Campbell, and Deputy Assistant Secretary of State Susan Thornton.
On April 3 this year, over 100 former officials and scholars made a statement admitting China's responsibility to "answer for in its response to the coronavirus" while at the same time calling for U.S.-China cooperation in the fight against COVID-19. As the statement contends, "America need not concede its interests or values, or condone China's handling of the crisis, to cooperate on coronavirus." Notable Obama alumni signing this statement, to name a few, include Secretary of Defense Chuck Hagel, National Security Advisor Susan Rice, Deputy Secretaries of State William Burns and Antony Blinken, Deputy National Security Advisor Avril Haines, Director of Policy Planning in the Department of State Jake Sullivan, and Under Secretary of Defense Michèle Flournoy. Some of them, like Blinken and Sullivan, worked directly for Biden in the White House as his national security staff and are now his senior advisers.
Nevertheless, the escalating tension between China and its neighbors; the omnipresent Chinese influence in diplomatic, political, and economic arenas; and China's tightening grip on Hong Kong are reshaping the views many potential Team Biden members have on China. Former U.S. Ambassador to the United Nations Samantha Power said she is "very worried about China" due to Beijing's policy in Hong Kong and expansion of influence. Sullivan and Hal Brands have written about the superpower ambitions Xi's China is displaying to achieve global hegemony through either military competition or influence expansion. National Security Council Senior Director Evan Medeiros and his predecessor under the Bush administration Michael Green recognize that the fundamentals of the U.S.-China relations are changing as Beijing becomes "more willing to take risks internationally and with a larger and more coercive toolkit than ever before." Also, Blinken admitted that China poses "a series of new challenges" and its commercial and economic practices make the status quo "really not sustainable."
The changing view on China comes in tandem with the counter-strike against Trump for being "soft on China." Last year, former Deputy Assistant Secretary of Defense Kelly Magsamen criticized Trump's delay in selling F-16V fighter jets to Taiwan as an act "using Taiwan as a bargaining chip in our economic relationship with China," which will only leave Taiwan more vulnerable to Chinese coercion. After Biden's victory in the presidential primaries, Rice attacked Trump for benefiting China by revoking the sanction against ZTE and praising Xi for his coronavirus management to preserve the Phase One trade deal. She also criticized Trump for leaving behind a power vacuum in the international arena for China to fill by rupturing U.S. alliances and abandoning U.S. leadership in international institutions. Meanwhile, Rice said that U.S. moral leadership is being questioned as Trump stayed silent to China's human rights violations. When commenting on John Bolton's criticism of Trump's position on China's human rights abuses, former Deputy National Security Advisor to Vice President Ely Ratner noted that Trump's approach to China involves "total disregard for human rights and the political motivation for the trade deal."
With this new mindset, some former Obama officials proposed new measures that are stricter yet coherent with the conventional Democratic platform to address challenges from China. In contrast to the Trump administration, Democratic policymakers tend to support more U.S. commitment to alliances, investment in international organizations, multilateral crisis resolution, recovering America's moral leadership for human rights, and addressing climate change. For instance, Green and Medeiros suggest that the United States restore its global leadership through closer ties with allies like Germany, South Korea, and Taiwan, and engagement with the World Health Organization for fighting COVID-19. Ratner and Richard Fontaine, a former Bush administration senior staff member at the National Security Council and Department of Defense, propose an issue-by-issue competition with China rather than replaying a Cold War-like all-out confrontation. On the one hand, the containment strategy is still necessary for stymieing the export of China's high-tech authoritarianism and preventing China's dominance in the South China Sea. On the other hand, issues like boosting domestic innovation require efforts independent from Chinese participation, while addressing climate change and nonproliferation will need Chinese cooperation. Recognizing the challenges posed by China's technological advancement to U.S. interests, former National Security Advisor Tom Donilon suggests that a better countermeasure will be investing more in U.S. technological development and accepting more talented immigrants rather than raising tariffs against China.
In addition to the rather conventional measures many Obama alumni recommend, there are voices supporting stronger gestures and actions when facing challenges from China. Magsamen, for example, proposed a "three-pronged strategy with respect to China" that recommends the U.S. "limit China's ability to exploit our open system," "leverage China's growing capabilities to advance collective interests," and "compete at full national strength." While praising the part China played in containing the Ebola outbreak in Africa, Samantha Power also called for investigating China's handling of the coronavirus.
Taiwan: Continued Strategic Ambiguity and Warming Relationship
Pro-Biden foreign policy experts may see China differently today, but Taiwan still seems largely a subset of U.S.-China relations to them. Former Assistant Secretary of State Daniel Russel describes Taiwan's role in U.S. foreign policy as either of symbolic importance as an "offshore rebuke to the PRC and an emblem of what a democratic China could look like" or a "blunt instrument used to harass and discomfit the Chinese Communist Party." Tsai's reelection and Taiwan's efficient handling of coronavirus spread, as he puts it, pose "a series of embarrassing setbacks" to Xi. The Trump administration has shown a series of public gestures of support to Taiwan like arms sales, Tsai's transits in the U.S., the passage of legislation beneficial to Taiwan, senior U.S. officials' virtual participation in Tsai's inauguration, and the announcement of TSMC investment in Arizona. These gestures, as Russel suggests, may sabotage the U.S. One China policy as Taiwan is used as "an instrument of pushback against China."
It is no surprise that other former officials during the Obama-Biden administration support a return to the conventional U.S. One China policy and a position of strategic ambiguity on cross-strait relations. That approach is in line with Biden's position throughout his political career; he once criticized then-President George W. Bush for having a policy of "ambiguous strategic ambiguity" on Taiwan. Supporting Taiwan, as Fontaine and Ratner put it, is about "an effort to build coalitions of the willing" rather than a question of "strict strategic alignment." Campbell and Sullivan note that Taiwan's prosperity and democracy are possible "in the ambiguous space between the United States and China." Blinken commented that one of the "successes" in the U.S.-China relationship and a "source of stability, not instability," is the way the past U.S. administrations, Republican and Democratic, have dealt with the challenge posed by the China-Taiwan relationship. He also added: "I hope we can get that back, get that balance back as we move forward."
To prevent a military showdown, the Asian hands Biden is likely to consult with prefer closer U.S.-China dialogues to direct military confrontation. Flournoy proposes the re-establishment of a regular U.S.-China strategic forum with the argument that "deterrence depends on the clear and consistent communication of interests and intent in order to minimize the risk of miscalculation." Senior officials from the U.S. and China, she lays out, can "discuss their respective interests and perspectives, identify areas of potential cooperation, and manage their differences." As for forestalling a Chinese invasion of Taiwan, Green and Medeiros believe the pressing issue is dispelling Beijing's misperception of U.S. intentions. That requires closer dialogues between senior national security officials from the United States and China in which American delegates make clear and official warnings to their Chinese counterparts what the U.S. will and will not do. To make deterrence against the Chinese offensive more credible, the U.S. should, instead of making multi-billion-dollar arms deals with Taiwan, work with Taiwan to develop asymmetric military capabilities, reform reserve and mobilization systems, and quietly intensify preparations with capable allies like Japan.
With the motto of "substance over symbolism," Democratic foreign policy advisers may be more reserved in adopting high-profile gestures to advance U.S.-Taiwan relations compared to their Republican counterparts. There were moments, however, when they made notable moves to advance the bilateral ties. In 2015, then-presidential candidate Tsai's meetings with Blinken and Medeiros as senior officials of the State Department and the White House were deemed a great breakthrough for U.S.-Taiwan relations. This April, Power praised Taiwan for its achievement in containing the coronavirus despite the WHO exclusion caused by Beijing's pressure. As she testified before the U.S.-China Economic and Security Review Commission in the Congress, Flournoy suggested that the United States should "explore Taiwan as an alternative to mainland China for parts of its supply chains."
Conclusion
The result of the U.S. presidential election is still too early to call. The composition of the next Congress will also influence the trajectory of the future U.S. policies on China and Taiwan. What is certain is that the old U.S.-China relationship is no more. China has passed the point of no return and will only be more assertive in challenging U.S. supremacy with its political, military, and economic power and worldwide influence. That said, it is still premature to declare a "paradigm shift" in the Democratic elites' China policies. To restore the political and moral leadership of the United States, Team Biden needs to convince its domestic voters and international allies that it is ready to address the challenges China poses, which none of the previous administrations, Republican or Democrat, have dealt with. A future U.S. administration may not want a Cold War with China, but it is necessary to reevaluate the validity of the One China policy made during the Cold War.
Yang Kuang-shun is a co-founder of U.S.-Taiwan Watch.