The Cost of Pompeo's Cancelled Trips to South Korea and Mongolia
President Trump's COVID-19 infection threw a wrench into U.S. Asia diplomacy.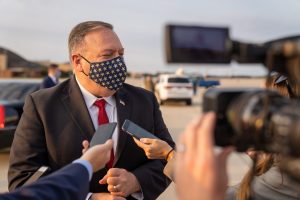 U.S. President Donald Trump's diagnosis with COVID-19, and subsequent hospitalization from Friday through Monday, has thrown the country's political sphere into chaos, just one month out from a contentious presidential election. Inevitably, the situation at home is having ripple effects on U.S. diplomacy in the Indo-Pacific.
U.S. Secretary of State Mike Pompeo was in Japan from October 4 to 6 for a meeting of foreign ministers of the "Quad," as the grouping of four Indo-Pacific democracies (Australia, India, Japan, and the United States) is known. But after his stay in Japan, Pompeo is heading right back to the United States – cutting off planned trips to both Mongolia and South Korea.
The decision, apparently made with Trump's COVID-19 diagnosis in mind, came at the last minute. The State Department announced Pompeo would only be visiting Japan on October 3, the day before he left. As late as October 2, the department was insisting the trip would take place as planned. Officials held a briefing that day outlining the planned agenda for "Secretary Pompeo's upcoming visit to Japan, Mongolia, and the Republic of Korea." (Trump's COVID-19 diagnosis was announced early in the morning on October 2.)
In a brief statement announcing the change, the State Department said that "Secretary Pompeo expects to be traveling to Asia again in October and will work to reschedule visits on that trip, that is now just a few weeks off." But some of the benefits of stopping in Ulaanbaatar and Seoul this week were time sensitive – and will be lost even with a delay of just a few weeks.
In the case of Mongolia, there's already a sense that Washington doesn't put much emphasis on the relationship. The cancelled trip – even if later rescheduled – fuels that perception. As David Stilwell, assistant secretary for the Bureau of East Asian and Pacific Affairs, pointed out in the pre-trip briefing, it would have been Pompeo's first stop in Mongolia since he took over the State Department. The last visit to Mongolia by a U.S. secretary of state was John Kerry's trip in 2016, under the Obama administration. Stilwell's comment that Pompeo's planned visit "is an example of the importance the United States attaches to the U.S.-Mongolian relationship" rings ironically now that the trip has been scrapped.
Mongolia already had frustrations about the lack of attention given to the relationship thanks to the slow progress of the United States' Mongolia Third Neighbor Trade Act. The bill, which would grant duty-free access to some Mongolian imports, notably cashmere and textile products, has stalled out in Congress since being first introduced in 2018. The bill made no progress in 2018 and was reintroduced in 2019. It didn't even make it past committee consideration, much less a full vote, in either year. With an election looming, the bill is all but certain to die quietly, and will need to be taken up again under a new Congress in 2020. Mongolia will be keen to see that happen, but has just lost a high-profile chance to make its priorities clear to the top U.S. diplomat.
Finally, by delaying the trip Pompeo misses the chance to capitalize on anti-China sentiment currently running high in Mongolia. There is deep anger over the sidelining of Mongolian-language education in China's Inner Mongolia region. Mongolian protesters greeted Chinese Foreign Minister Wang Yi when he arrived in Ulaanbaatar in September, and have been pressuring their government to speak out on the issue. The United States had a chance to win public favor by commenting on the perceived oppression of ethnic Mongolians in China – and, as Stilwell did in his briefing, by talking up U.S. efforts to "to help preserve Mongolia's cultural heritage." A delay of even a few weeks could see that opportunity evaporate.
Meanwhile, in South Korea, the opportunity costs are even greater. With North Korea set to celebrate the 75th anniversary of its ruling party on October 10, analysts expect Pyongyang to show off new military technology. Pompeo's presence in Seoul just a few days before would have sent a strong signal of alliance solidarity. As Stilwell put it, the trip would "reaffirm the ironclad U.S.-ROK alliance, which is a linchpin of peace and security in the region." Now that reassurance – and, more concretely, the chance to discuss a united response – won't come until after North Korea's anniversary celebrations, with whatever provocations that may bring.
Such signaling is doubly important at a time when the U.S.-South Korea alliance is fraying over fractious cost-sharing talks. The Special Measures Agreement that outlines Seoul's contribution to the cost of hosting U.S. forces in South Korea expired in 2019; the two sides have been unable to close the gap between U.S. demands for a five-fold increase and South Korea's insistence that its current levels of contribution are fair. Under those circumstances, routine signaling of the health of the relationship – including official visits like Pompeo's – assumes a heightened importance.
Further complicating things is the fact that Pompeo kept his scheduled trip to Tokyo. South Korea is always sensitive to the optics of U.S. officials visiting Japan without stopping in Seoul, even more so at the current moment, when the Japan-South Korea relationship remains on the rocks. Pompeo's trip to Japan, of course, involved a meeting with three other foreign ministers – something much harder to reschedule. But there were also bilateral discussions with Japan. Seoul will be keenly aware that Pompeo "stressed that the [U.S.-Japan] Alliance is essential to the future of a free and open Indo-Pacific region" in talks with Japan's foreign minister, without subsequently holding discussions with his South Korean counterpart as well.
That hints at one final issue with the shortened trip: The only leg Pompeo kept involved a meeting of the Quad, widely seen as an anti-China bloc despite constant protestations to the contrary from its members. Keeping Pompeo's commitment to the Quad, and the Quad alone, thus reinforces perceptions that U.S. Asia diplomacy places top priority on countering China. That message is especially problematic for South Korea and Mongolia, which both have a deep economic reliance on China. Seoul and Ulaanbaatar would be unwilling to unequivocally "choose sides" in the U.S.-China Cold War. The more U.S. diplomacy looks to be focused on drawing those lines, the less comfortable countries like South Korea and Mongolia will be.