Duyeon Kim on South Korea's Foreign Policy Priorities
How the Moon administration is seeking to navigate its most pressing challenges, from North Korea to the U.S.-China cold war.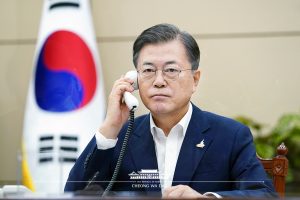 South Korean President Moon Jae-in faces an unenviable foreign policy environment heading into the final year-plus of his presidency. North Korea remains utterly impassive in the face of Moon's outreach; a new cold war is looming between South Korea's most important economic and security partners; and tensions with Japan over historical and legal issues are mounting. Meanwhile, South Korean politicians are starting to position themselves for the Seoul and Busan mayoral by-elections this April – not to mention the presidential election in 2022.
In this interview with The Diplomat, Duyeon Kim, adjunct senior fellow at the Center for a New American Security, discusses South Korean foreign policy – North Korea, the U.S., and beyond – as the 2022 presidential race slowly begins to heat up.
In his New Year's press conference, President Moon continued to stress his hopes for a return to inter-Korean meetings and summits. North Korea, however, doesn't seem as receptive. What are the prospects for inter-Korea relations in the final year-plus of Moon's term?
The odds are greatly against President Moon. North Korea has made it clear for a long time that it's not interested in Moon's style of inter-Korean projects and meetings. In his Workers' Party Congress Report, Kim Jong Un criticized Moon for making "nonessential" offers to cooperate on the pandemic, humanitarian issues, and joint tours. But Moon reiterating those again in his New Year's press conference led to Kim's sister, Kim Yo Jung, slamming Moon for basically being clueless. Pyongyang first wants Seoul to stop all combined military drills with the U.S., refrain from procuring high-tech conventional military equipment for South Korea's defenses, enact a leaflet ban as South Korean law, and behave as North Korea's mignon and provincial government. Only then, according to North Korea, will Pyongyang consider normalizing inter-Korean relations.
So, Moon is facing his biggest dilemma, especially when he wants to establish Korean peace before exiting office in May next year. He has so far been unable to get in North Korea's good graces, unable to get sanctions lifted to resume inter-Korean projects because that requires significant denuclearization measures, and he will quickly discover he won't be able to easily convince President Biden to meet with Kim Jong Un.
What is the general reaction in Seoul to the transition to the Biden administration in the United States? What hopes or concerns does the Moon administration have for its new counterpart in Washington, D.C.?
The broader South Korean society, especially leaders in various sectors, are relieved and hopeful that President Biden will bring back a degree of predictability, stability, and traditional approach to foreign policy. At the same time, it appears President Moon might be misinterpreting the Biden administration's general approach to key issues, particularly when it comes to a focus on alliances and principled diplomacy with North Korea. Moon might expect an alliance-based approach to mean the Biden administration will give more weight to Moon's approach to the North Korea problem. But an alliance-based approach suggests that the Moon government will now have to live up to expectations of an elevated alliance regarding China. And a principled approach to diplomacy with North Korea suggests that Pyongyang will need to offer credible and proportionate denuclearization measures in exchange for receiving its demands.
By saying President Biden is an experienced foreign policy professional, knows Korea issues well, and supported the previous South Korean progressive Sunshine Policy, Moon seems to be implying that he expects his vision and policy approach to be received well by the Biden administration with open arms. However, there are fissures in the alliance that will outlast Trump – including a specific approach to North Korea, deterrence, human rights, China, and trilateral security cooperation with Japan – that the Biden and Moon teams should work out sooner than later.
Tensions between Japan and South Korea remain thick, as evidenced by the response to a recent South Korean court ruling on compensation for so-called "comfort women." However, with a new prime minister in Japan, Suga Yoshihide, and a new administration in the United States to potentially mediate, are there new prospects for Korea-Japan relations?
A dramatic shift in South Korea-Japan relations is unlikely any time soon, which complicates the Biden administration's plans for trilateral cooperation to deal with North Korea and China. President Biden and Secretary [of State Antony] Blinken had experience during the Obama administration with playing key roles in facilitating improved relations. But it's a different situation today. It's not just a political issue, which is difficult in it of itself, but it has evolved into a legal issue as well in light of South Korea's latest court ruling.
Moon's comments in his new year's press conference are notable because they reflect a shift in tone and rhetoric, but the fundamental issues have not changed. His comments are largely seen as a way to prevent a diplomatic crisis without a real plan of action. Moon's base of supporters is also very anti-Japan while guided by nationalism. And Seoul's warming up to Tokyo recently is aimed at securing Japan's cooperation in holding a four-way summit among the U.S., South Korea, North Korea, and Japan at the Tokyo Olympics to jumpstart the Korean peace process. He is attempting the 2018 Winter Olympics diplomacy approach again in hopes that it will lead to summitry.
Japan would be watching to see if and how Seoul follows up with detailed actions. It will be tricky with Moon having one year left in his term and Suga experiencing difficulties domestically. The best outcome would be if Seoul and Tokyo could compartmentalize bilateral problems separately from regional cooperation to deal with shared challenges like North Korea. But the Moon government has been opposed to security cooperation involving Japan's participation.
With Seoul and Busan mayoral by-elections set for April, and the race for the 2022 presidential election starting to heat up, how will domestic politics impact foreign policy decision-making?
I don't expect a dramatic shift in South Korea's foreign policy for the remainder of Moon's term amid the April by-elections and preparations for the 2022 presidential elections. Whoever is elected as Seoul mayor will provide clues as to who might want to run for president and which party might have a better shot in the presidential elections – but it's still much too early to forecast or call either race. Until now, progressives have been more domestic politics-oriented in their approach to foreign policy and gave inter-Korean relations priority over the U.S.-South Korea alliance, while conservatives have placed importance on the U.S.-South Korea alliance and aspired for a more global agenda. But we will have to see who the presidential candidates are to get a better idea of how they might shape their foreign policy.
President Moon held a phone call with China's Xi Jinping, the first in eight months, last week. Given the rocky relationship between China and the U.S. at the moment, what are the prospects for China-South Korea relations at the moment?
Moon has been extremely eager for a long time to have Xi visit Seoul, to the point where there is concern in some circles in Seoul that Xi might try to bargain Huawei 5G technology for a Seoul visit. It would be a mistake for Seoul to accept Huawei under any circumstances because of concerns over personal privacy, data security, and national sovereignty.
I elaborate in my recent Foreign Affairs article how the left-of-center Moon government and its constituents have several motivations to charm Beijing. They don't want to aggravate Beijing because China is South Korea's key trading partner that has used economic coercion against it before, and they want Beijing's help with North Korea. But more fundamentally, in contrast to their conservative counterparts, Moon and his base are also sympathetic toward China and North Korea. They prioritize nationalism, autonomy, and inter-Korean relations over the U.S.-South Korea alliance. Beijing for its part is trying to prevent South Korea from participating in what it sees as a U.S.-led anti-China movement. These are just some of the reasons why I think South Korea led by Moon will be the Biden administration's linchpin ally in the region but could also be its weakest link in Washington's coalition of democracies to deal with an increasingly assertive China.