Ahead of CCP Anniversary, Kazakh Activists Protesting China's Xinjiang Policies Detained
Several activists well-known for picketing the Chinese consulate in Almaty have reportedly been detained in Kazakhstan.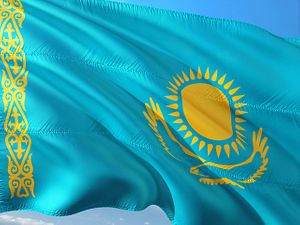 Police in Kazakhstan have reportedly detained a handful of activists long involved in protesting Chinese policies in Xinjiang. According to reporting by RFE/RL's Kazakh Service, Baibolat Kunbolat and his mother, Zauatkhan Tursyn, were detained on July 1. Bekzat Maqsutkhan, the leader of Nagiz Atajurt, is also presumed to have been detained the same day.
A small group of activists, many older women, have been staging small protests outside the Chinese consulate in Almaty, Kazakhstan's largest city, for months. While the picketing has yielded little to no reaction from Chinese authorities, it has triggered several arrests and the issuing of fines.
On June 28, Kunbolat was released from custody following an eight-day detention for filming a rally outside the consulate. He'd initially been sentenced to a 15-day period in jail, but was released early after protests against his arrest. 
Kunbolat has been protesting outside the Chinese consulate since at least early 2020 seeking the release of his brother, Baimurat Nauryzbek, from Chinese custody. (Note: While most coverage refers to Nauryzbek as Kunbolat's brother, he is per the available information technically a cousin, adopted as a baby by Kunbolat's aunt, who resides in Xinjiang still.)
According to information compiled by the Xinjiang Victims Database, the narrative regarding Nauryzbek differs between the testimony of relatives and Chinese authorities — but all are certain he's in a Chinese prison. Relatives say he was detained in March 2018 and served 18 months in an internment camp before being sentenced to 10 years in jail. Chinese authorities, however, say he was arrested and sentenced in April 2018 to 10 years without a stint in an "education and training center." Testimonies suggest he was arrested for something on his phone, with the official conviction being for "inciting ethnic hatred" via an article he posted in 2012 to Baidu Tieba, a Chinese social media network.
Included in the database's information on the case is an undated reply (ostensibly from sometime in 2020) from a staff member at that Chinese Embassy in Kazakhstan to the initial inquiries made by Kunbolat. The reply includes not-so-subtle threats. After stating that Kunbolat ought to be "grateful" for the embassy's reply, the letter says, "Don't expect such politeness and assistance the next time that you cause trouble." 
"Don't think that you can do whatever you like just because you've obtained Kazakhstan citizenship. Nor is the Kazakhstan government going to protect those who harm China-Kazakhstan relations, attacking and insulting the Chinese people, even if that person happens to be a citizen of Kazakhstan."
Kunbolat was born in China but obtained Kazakh citizenship, as many ethnic Kazakhs have done in the 30 years since the collapse of the Soviet Union. 
In February 2021, Kunbolat had been detained again by Kazakh authorities while protesting, giving his mother the opening for this remarkable quote: "I demand from Chinese authorities to release my son Baimurat, and I demand Kazakh authorities release my son Baibolat."
While it's clear that these small repetitious protests have not budged Chinese policy, it's also clear that they have not yet budged Kazakh policy much either. Kunbolat and numerous others have been subject to repeated arrests, served short terms in jails, and then consistently get back to the picket. Arguably it's an unsustainable circuit, but as long as the jail terms remain administrative and brief, the protesters seem determined to keep showing up. 
Nur-Sultan's interest in remaining neutral and maintaining good relations with extra-regional powers like Europe and the United States — which have both condemned Chinese policies in Xinjiang and enacted sanctions — shrinks Kazakhstan's available options, even if staying in Beijing's good graces is a priority. 
Meanwhile, Chinese threats — which also include threats against relatives still in Xinjiang — do not have the desired deterring effect in every case. They have not managed to keep Kunbolat home, though certainly Chinese threats have silenced many others. 
The timing of this week's arrests — July 1 — shares the day with the 100th anniversary of the Chinese Communist Party's founding.