2022 New Year's Resolutions for Asia's Biggest Economies
Parsing the biggest economic challenges for China, Japan, and India.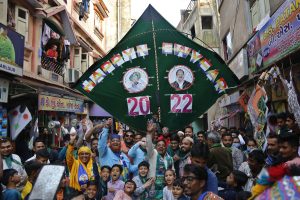 Asia's Year of the Ox failed to deliver its promised virtues of diligence and wealth, amid yet another pandemic-hit year. With the Year of the Tiger expected to bring renewed growth and vitality in 2022, The Diplomat examines some potential New Year's resolutions for the region's biggest economies to help transform their fortunes.
China: Don't Count On Games Glow 
China's hopes of gaining a global "soft power" boost from hosting the Winter Olympics have been dealt a blow by both COVID-19 and geopolitics.
Beijing's "zero COVID" policy has failed to contain a coronavirus outbreak in Xi'an, with the city of 13 million people locked down for nearly two weeks and counting. A further spread of the virus could see larger lockdowns imposed, risking greater economic disruption including supply chain pressures and higher inflation, warns the Eurasia Group.
The ruling Chinese Communist Party (CCP)'s mismanagement of the Peng Shuai scandal has also sparked an international pus back. The United States and its allies imposed a diplomatic boycott of February's Olympics and the Women's Tennis Association suspended Chinese tournaments in protest over the tennis star's mistreatment after she alleged sexual coercion by a former vice premier.
Governmental interference in industries ranging from education to technology has also raised red flags for investors. Nearly $1.5 trillion was wiped from the value of Chinese internet and tech stocks in 2021, as investors reappraised the effects of Chinese President Xi Jinping's "common prosperity" policies and its impacts on IT entrepreneurs such as Jack Ma.
Hit by a "baby bust," the effects of the pandemic, and rising debt levels, China accounted for a quarter of global GDP growth in 2021, down from a third before the pandemic. With the real estate sector accounting for as much as 30 percent of China's economy, a property slowdown could further weigh on the world's second-largest economy in 2022, as seen by the debt difficulties facing property giant China Evergrande.
Politically, China's "president for life" faces another test at the CCP's 20th National Party Congress in the fall, at which Xi is expected to break precedent and gain a third five-year term as leader. Yet while outwardly Xi appears in full control, internal signs of dissent are apparent, with an emerging debate between the "Deng reformers" in one camp and followers of Mao and Xi in the other.
Analysts still expect positive GDP growth in 2022, with the International Monetary Fund projecting a 5.6 percent GDP gain, down from last year's estimated 8 percent. However, two years since the outbreak of COVID-19, the economic outlook is now "more worrisome than at any point since China came racing out of the initial lockdown," warns Capital Economics.
Prospects: China may need to change course on its pandemic management if it wishes to avoid more negative economic impacts, with the risk of a property shock also weighing on confidence. Further crackdowns on private sector activity could also hit foreign investment.
With the pressure growing both internally and externally, the fanfare from the Olympics and Xi's expected triumphant inauguration for a third term could quickly fall flat. More fiscal and monetary stimulus could be essential to maintaining public support, particularly if the coronavirus gets out of hand.
Japan: 'New Capitalism' Faces Old Tests 
Japanese Prime Minister Kishida Fumio's "new capitalism" faces some old tests in 2022, including revitalizing the world's third-largest economy and preventing the bugbear of deflation arising from its slumber.
Kishida also needs to keep the Japanese business community and foreign investors onside after stressing the need for wage hikes and wealth redistribution. How much redistribution will be coming from investors' pockets will be a focus for financial markets, as the newly installed Liberal Democratic Party leader attempts to reshape "Abenomics."
The challenges facing "Kishidanomics" have been highlighted by Japan's Nikkei newspaper, which ranked Japan lower than other major economies on GDP and real wages growth, with its citizens "only a bit happier than in China."
With consumer spending dropping and daily COVID-19 cases recently hitting their highest level in three months, Kishida will be hoping record fiscal stimulus and continued ultra-low interest rates together with high COVID-19 vaccination levels will keep the economy ticking along.
This is particularly important ahead of the House of Councilors election, expected to be held on July 10. While not as vital as last October's lower house poll, Kishida's leadership could be threatened if a wave of coronavirus infections crimps economic activity.
However, electoral success for the ruling coalition would give Kishida a three-year break before the next election, giving him valuable breathing space to address diplomatic and other policy challenges.
In September, Japan marks the 50th anniversary of the normalization of postwar ties with China, a relationship that needs to be finely balanced with that of Japan's security guarantor, the United States. Already, Kishida has made his mark on security policy by ramping up Japan's engagement with its "Quad" partners, including signing a new defense agreement with Australia.
"Japan optimist" Jesper Koll argues the nation is in the best shape it has seen for decades due to a decline in corporate cross-shareholdings, the "pro-growth consistency" of economic policy, and an increased focus on ensuring Japan does not become "an economic colony of China."
However, Koll also noted that Kishida's inaugural policy speech to the Diet failed to mention the word "reform" even once, making him "the first prime minister in more than two decades to omit it."
Fortunately for Kishida, the economy is projected to grow by 3.2 percent this year – its strongest growth in a decade – barring any mishaps from the pandemic.
However, continued corporate governance reform and labor and product market deregulation together with moves to ensure "Womenomics" achieves its targets will be crucial if Kishida wants to outperform his predecessor, amid the longer-term challenges of debt and demographics.
Prospects: Similar to 2021, the administration's ability to manage the coronavirus pandemic will be the key to ensuring electoral and economic success. Unlike last year, however, there will be no Olympics to divert public attention should Kishida's efforts fall short.
India: Close the Output Gap
India will mark the 75th anniversary of its independence amid increasing economic and political pressures on Prime Minister Narendra Modi and his ruling Bharatiya Janata Party (BJP).
Economically, the GDP data appears to show a rosy picture. India is expected to claim the title of the world's fastest-growing major economy during 2021, with estimated GDP growth of 9.5 percent, a figure that is seen only slightly moderating to 8.5 percent this year.
Yet despite its formidable recovery, the performance of Asia's third-largest economy has been somewhat uneven. Pew Research Center estimates more than 30 million middle-class Indians were pushed into poverty due to the impacts of the coronavirus pandemic, with the number of absolute poor rising by about 75 million.
Capital Economics estimates India's shortfall compared to pre-pandemic GDP is one of the world's largest, with an output gap of around 7 percent, meaning there is plenty of room for recovery.
Yet with household finances hard hit, inequality widening, and public spending likely to run into fiscal constraints, the recovery momentum could stall. Inflation could also pick up speed, particularly if there are renewed waves of the coronavirus amid relatively low vaccination coverage.
Politically, the BJP faces a slew of state elections that are expected to set the scene for the next national elections in 2024.
The most important poll is in Uttar Pradesh, India's most populous state, which accounts for around a fifth of seats in the Indian Parliament. The ruling BJP faces a potential backlash over its management of the pandemic and a deterioration in law and order.
Hanging onto this prized political asset will be Modi's top priority as he attempts to extend his tenure beyond a decade in office. Already, he has shown his intentions with the scrapping of agricultural reform laws after facing the nation's largest protests since independence.
In foreign policy, India faces a potential terrorist threat from Taliban-ruled Afghanistan together with continued tensions in Kashmir. However, the biggest challenge will remain that posed by its neighboring rival China, with the potential for further border clashes and the latter's growing influence in South Asia.
Modi's moves to step up engagement with the Quad, which he has described as a "force for global good," are seen helping to balance China, even while India's purchase of a Russian missile defense system earned Washington's ire.
Prospects: Modi faces a tough challenge in overcoming the coronavirus pandemic and ensuring a full-blown economic recovery. His reform options will be limited, however, due to the risk of political pullback, with his backsliding on farm reforms likely to encourage critics. Get it right, though, and the 71-year-old Hindu nationalist could yet become one of India's longest serving leaders.
With the coronavirus pandemic erasing an estimated $1.7 trillion from Asia's largest economies, the region has a lot of catching up to do in 2022. Much is riding on the region's heavyweights to lead the recovery charge, as the world's economic growth engine sputters back to life.
In the meantime, to all Diplomat readers, our very best wishes for a happy and prosperous New Year!