It's Advantage China in the Indian Ocean
Wang Yi's visits to the Maldives and Sri Lanka signal Beijing's priorities fairly clearly: it's focusing on South Asia and the Indian Ocean.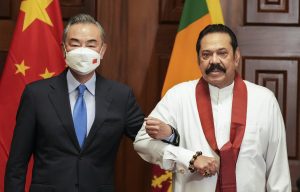 China's foreign ministers have traditionally begun their diplomatic business for the year with a visit to Africa. But this year, Foreign Minister Wang Yi added a couple more stops to the trip. After spending four days in East Africa, Wang traveled to the Maldives and Sri Lanka.
Timing matters in diplomacy. That is why for 32 years, China has reserved Africa as the foreign minister's first overseas tour of the year, signaling the importance of that continent to Beijing's global leadership plans. Over the years, China has competed successfully with the West to establish itself as Africa's foremost economic partner, cornering strategic mineral resources across its vast expanse.
But in 2022, the Indo-Pacific will prove equally significant – if not more – in China's geopolitical contest with the United States and its allies. By stopping by in the Maldives and Sri Lanka on his way back from Africa this year, Wang has spelt out Beijing's priorities fairly clearly: China's focus is on wresting control in South Asia and the Indian Ocean, even as it faces conflict and hostility in Taiwan, Hong Kong, and the wider Pacific.
This is a sensible strategy. Politically, China enjoys friendlier waters in South Asia and the Indian Ocean than it does in Southeast Asia and the Pacific. In the latter realm, Beijing faces opposition from Taiwan, territorial disputes in the South China Sea and East Asia, and myriad frictions with Australia and New Zealand.
By contrast, much of South Asia and the Indian Ocean has been relatively more benign. In Sri Lanka, the dominant clan led by President Gotabaya Rajapaksa – which swept back to power in 2019 – has been friendlier toward Beijing than its domestic political rivals. While Rajapaksa's predecessor had tried to maintain a more delicate balance between India and China, the new government has been more willing to embrace Beijing, even in the face of opposition from its rivals.
In the Maldives, the pro-Chinese former president, Abdulla Yameen, was ousted from power in 2018 and then jailed, but things have changed since then. The coalition government that succeeded Yameen has been beset by internal squabbles, and Yameen himself was acquitted of his crimes and freed from prison last month. Shortly afterwards, he was seen rallying with the bluntly-worded "India Out" campaign, which has been protesting against India's military presence in the country (the government says that there is no such presence).
Yet, in the midst of a pandemic, economics can trump politics – and that is where China has both headaches and opportunities.
In few countries is Chinese investment more contentious than in Sri Lanka. Opposition leaders routinely speak about the "debt trap" that they argue has been caused by Beijing's Belt and Road Initiative (BRI). Those concerns have only gotten shriller as COVID-19 wreaked havoc. Foreign reserves are now down to about $1.6 billion – barely enough for a few weeks of imports, according to the Associated Press. In 2022 alone, Sri Lanka faces foreign debt obligations to the tune of over $7 billion. Inflation rose to over 12 percent by the end of December and food inflation has increased to over 22 percent.
Similar problems have ravaged the Maldives, which owes a whopping 40 percent of its GDP to China. The pandemic shut down much of the tourism sector, which accounts for 30 percent of Maldivian GDP and over 60 percent of its foreign earnings. Both countries have been downgraded by various ratings agencies for their pandemic woes. When Wang visited Colombo over the weekend, Rajapaksa asked him to restructure Sri Lanka's debt.
But the problem for Sri Lanka and the Maldives is that China's rivals haven't quite been able to step up either.
Ever since Yameen left office in 2018, India has made some important inroads into the Maldives' dependence on China. India currently runs the Maldives' largest infrastructure project – the Greater Male Connectivity Project – and some 45 major development projects worth over $2 billion. It has also contributed the biggest share of tourists arriving in the Maldives over the last couple of years – nearly 300,000 in 2021 alone.
But as its own economy reels under the pandemic, New Delhi's ability to compete consistently with Beijing's economic influence is suspect. Far before Rajapaksa made his plea to Wang this weekend, Sri Lanka had asked India for a debt moratorium in February 2020. New Delhi did not respond to that request. Sri Lanka also made more recent requests for emergency lines of credit to import food, fuel, and medicines, and also a currency swap arrangement. New Delhi did not respond to those either.
Despite its historical advantages, India has also lost its primacy on trade to China more recently. Between September 2020 and September 2021, trade between China and Sri Lanka increased by over 85 percent, according to the Observatory of Economic Complexity. Trade between China and the Maldives increased by 80 percent during the same period. India's trade ties, meanwhile, have remained relatively flat.
As the virus continues to spread, countries will seek to align more strongly with regional powers that can meet their economic needs. In 2020, when asked why Colombo keeps going back to China for more debt, a Sri Lankan minister simply said that China has the "most amount of cash now." That fact puts the advantage firmly in favor of Beijing.