North Korea Conducts Its Sixth Round of Missile Tests This Month
Is North Korea trying to draw attention from the U.S. by testing missiles?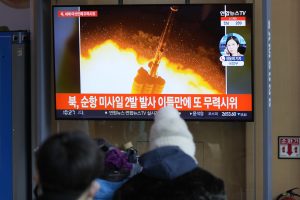 North Korea fired two suspected short-range ballistic missiles (SRBM) off its east coast on Thursday, according to the South Korean Joint Chiefs of Staff (JSC). Today's test – North Korea's sixth test this month – came two days after it tested two cruise missiles.
The suspected SRBMs flew about 190 km with an apogee of 20 km from near Hamhung city around 8:00 a.m. Korea Standard Time (KST), JSC said. Detailed information on the performance and capacity of the missiles is expected to be announced on Friday by North Korea's state media.
Based on the JCS's brief information on the performance of the SRBMs, North Korea might have launched an improved model of the KN-23 SRBM.
Seoul's National Security Council (NSC) held an emergency meeting hours after the North's missile launches. Despite a flurry of the North's SRBM tests, however, it again stuck to expressing "extreme regret" over North Korea's latest missile test, showing Seoul has few options for reacting to North Korea's missile launches. The U.S. State Department also delivered predictable comments on the test, saying it "condemns" North Korea's ballistic missile launches, which are a "violation" of UNSC resolutions and "pose a threat" to North Korea's neighbors and the international community.
Through a series of tests involving hypersonic missiles, SRBMs, and cruise missiles, North Korea has test-fired 10 individual missiles so far this month, the most individual missiles tested in a month. North Korea's previous record was set in March 2020, when it tested nine individual missiles. The North has noticeably ramped up the frequency of missile tests in the wake of the "no deal" Hanoi summit in February 2019. Despite the United States' recent sanctions over the country's SRBM tests, North Korea will keep testing missiles as Kim Jong Un seeks to show his strong military might on the birth anniversaries of Kim Jong Il (February 16) and Kim Il Sung (April 15), the current North Korean leader's father and grandfather, respectively. North Korea usually unveils an improved model of its ballistic missiles or advanced weapons at such events.
North Korea has been off of the United States' top priority list since U.S. President Joe Biden took office last year. Pyongyang may want to draw more attention from the U.S. this year, as Washington's focus has been completely transferred to the potential flashpoints of Ukraine and Taiwan to deter growing leverage and hegemony of Russia and China.
However, Pyongyang's recently emphasized that its missile tests are for "self-defense," not for targeting certain countries, while criticizing the "double standard" on the military activities of the two Koreas. North Korea's missile tests seem to have been conducted under its "five-year plan to develop the defense science and weapon systems" as introduced at the Eighth Party Congress of the Workers' Party of Korea (WPK). With this, more and more improved models of current North Korea's missile programs are expected to be showcased this year.
"It is a warning to the Biden administration as it grapples with an aggressive Russia, that North Korea, too, can cause it sleepless nights," Lee Sung-yoon, a professor in the Fletcher School at Tufts University, told The Diplomat. "Each missile blast is a reminder to the U.S. that an aggressive U.S. response to Russian moves in Ukraine or China's moves in the Taiwan Strait or South China Sea will invite only bigger problems from Pyongyang tailor-made for Washington."
After the failed Hanoi summit with then-U.S. President Donald Trump, Kim said that he no longer felt no bound by his self-moratorium on nuclear and intercontinental ballistic missile (ICBM) tests. This stance was reiterated by the North's Foreign Affairs Ministry in mid-January of this year, right after the U.S. imposed sanctions on six North Korean individuals who are involved in the country's ballistic missile and weapons of mass destruction (WMD) development. Although its missile test on January 14 appeared to have been conducted spontaneously as a response to the U.S. sanctions, the other missile tests this month apparently followed Kim's clear hardline stance on the nuclear talks.
Since the COVID-19 pandemic began, North Korea has been taking draconian anti-pandemic measures to prevent the spread of the coronavirus into the country. Shutting down the border with China has caused the North's economy to plummet while worsening its food shortages. However, this month North Korea resumed tentative trade with China, even though it is believed the country still does not have sufficient medical systems to cope with an unexpected COVID-19 crisis.
"The bigger story of January 2022 may be the resumption of rail traffic between North Korea and China because it suggests Pyongyang's pandemic policies have entered a new phase." Leif-Eric Easley, a professor at Ewha University in Seoul, told The Diplomat.
"The shipments by train also show that Beijing is supportive of North Korea despite recent provocations and the Kim regime's allocation of resources to nuclear and missile programs at the expense of domestic welfare," Easley said.
Particularly if trade with China resumes and boosts the domestic economy, North Korea will likely test more missiles, perhaps ones that appeared at its military parades and exhibition last year or new powerful WMDs, to carry out its military modernization plan.
Drawing more attention from the U.S. could definitely be one of the intentions of North Korea's missile launches. However, what should be emphasized more than any diplomatic rationale is that North Korea seems to be faithfully abiding by its five-year plan to develop and modernize its military and missile capabilities.