Kazakh Opposition Politician Zhanbolat Mamai Released to House Arrest
After eight months in jail, and mounting pressure, the charges against Mamai were recently reclassified and he's been released to house arrest.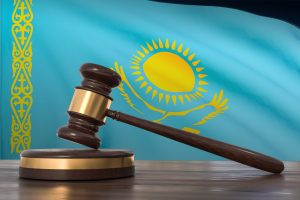 The leader of the unregistered Democratic Party of Kazakhstan, Zhanbolat Mamai, was released to house arrest on November 2 after more than eight months in pre-trial detention. Mamai's release from jail follows the reclassification of the charges against him amid mounting international pressure.
Last week, the charges against Mamai were reportedly reclassified from "organizing mass riots" to "violating the procedure for organizing and holding peaceful meetings."
Mamai was detained in late February, initially for 15 days, after organizing a rally to honor those who died in the January events. 
According to official numbers, 238 people died during the violence of "Bloody January," when protests over fuel prices dovetailed with wider grievances and, as many experts have argued, elite competition. Government efforts to disburse protesters touched off rioting, and an internet shutdown contributed to widespread confusion regarding what was happening in cities like Almaty, Kazakhstan's largest. 
Kazakh authorities alleged foreign meddling and the involvement of terrorists and "bandits" — 20,000 of them, President Kassym-Jomart Tokayev said in one January speech. No evidence has been presented to support those claims. Instead, Astana has sought to push Kazakhstan past the events, with a constitutional referendum this summer under the branding of a "New Kazakhstan," the sidelining of some Nazarbayev-linked elites, and most recently the approval of an amnesty for many of the thousands arrested during the unrest and after.
In September, Tokayev called for a snap presidential election. The vote is set for November 20, and Tokayev is expected to secure a second term as president against a handful of political nobodies. Despite reforms ostensibly aimed at making it easier for political opposition to organize in Kazakhstan, no new political parties have been registered.
Mamai has tried unsuccessfully for years to register his Democratic Party of Kazakhstan.
In March, when Mamai was due for release he was instead rearrested on new charges of insulting law enforcement officers and distributing "false information" in September and December 2021, respectively. He was still in detention when, in June, he was charged with organizing mass riots and disseminating false information during the January 2022 protests. 
The recent reclassification of the charges against Mamai and his release to house arrest come after months of pressure from human rights groups and international organizations, as well as foreign governments and politicians.
Human Rights Watch and Freedom House, among others, called on Kazakh authorities to release Mamai and drop the charges against him. In March, Human Rights Watch noted Tokayev's ambition to create a "New Kazakhstan" and remarked: "If a more open political system is in fact to emerge in Kazakhstan, it could start with respect for [Mamai]'s rights."
More recently, after a delegation from the European Parliament's Subcommittee on Human Rights made a fact-finding visit to Kazakhstan in late August, the members "called for immediate halt to the harassment and intimidation of political and civil society activists and the release of all political prisoners," highlighting Mamai's case specifically.
And this week, a nongovernmental commission of inquiry was announced in the United Kingdom by a British law firm, Bindmans LLP, "on behalf of interested parties who are Kazakh citizens" to investigate Mamai's detention and treatment. The commission is chaired by British politician and lawyer Kenneth MacDonald and joined by two MPs, Andrew Mitchell and Rushnara Ali. 
The first hearing in Mamai's case is scheduled for November 7.