China Expresses 'Grave Concern' Over South Korea-US Military Drills
Beijing is throwing its weight behind Pyongyang's claim that its missile tests are a necessary defensive response.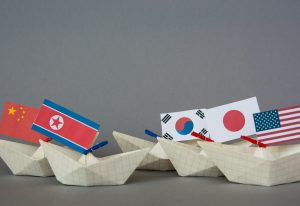 On March 14, the day after the United States and South Korea kicked off newly enlarged military drills, China's Foreign Ministry made its displeasure clear.
"We are gravely concerned over the moves of the US and the ROK in their military exercises," said ministry spokesperson Wang Wenbin, using an acronym for the Republic of Korea, South Korea's formal name.
"The current situation on the Korean Peninsula is highly complex and sensitive. All parties concerned should remain restrained and do more things that are conducive to peace and stability on the Korean Peninsula, not otherwise," Wang added.
Yet he did not directly criticize North Korea for its record-setting missile launches throughout 2022, nor the rapid pace of tests over the past few days. The implication is that Beijing supports Pyongyang's narrative that its military activities are necessary defensive measures in response to hostility from Washington and Seoul.
In recent weeks, North Korea has issued repeated verbal warnings against the South Korea-U.S. springtime drills, dubbed Freedom Shield. After five years of scaled-down drills – first due to optimism over the potential for a breakthrough in North Korea-U.S. talks, then due to the pandemic – the U.S. and South Korean militaries are returning to large-scale field drills this year, causing serious consternation in North Korea.
Kim Yo Jong, the sister of North Korean leader Kim Jong Un, said last week that "we keep our eye on the restless military moves by the U.S. forces and the South Korean puppet military and are always on standby to take appropriate, quick and overwhelming action at any time according to our judgment."
North Korea followed that up with six short-range ballistic missile launches, personally overseen by Kim Jong Un, then the test-firing of two "strategic cruise missiles" from a submarine. Pyongyang framed its launches as a direct – albeit preemptive – response to the then-upcoming Freedom Shield exercises, which state media described as "frantic war preparation moves being committed by the enemy recently."
The United States and South Korea disagreed. Seoul called the SRBM launches "a grave provocation" that jeopardized peace and security in the region. Washington had a similar response, with U.S. State Department spokesperson Ned Price saying such launches "only serve to heighten tensions in the region."
"The DPRK's unannounced cruise missile tests are yet another example of DPRK actions that threaten regional peace and stability," Price told reporters in his March 13 press conference, using an acronym for North Korea's official name (the Democratic People's Republic of Korea).
Price added, "The DPRK has consistently posed a challenge to the rules-based order and to the vision of a free and open Indo-Pacific. As we continue to see these provocations, we are going to work with our partners in the Indo-Pacific… to hold the DPRK accountable."
In response to North Korea missile launches, China's usual refrain is a generic call for "all sides" to exercise restraint, although its sympathies are made clear by China's moves to block any additional sanctions on North Korea at the United Nations. But this week, in the context of the South Korea-U.S. military drills, Beijing went a step further, blaming Seoul and Washington for the current situation.
In addition to expressing "grave concern" over the military exercises, Wang said, "The crux of how the Korean Peninsula situation gets to where it is today is clear. The main reason is that the parties concerned have refused to respond to the denuclearization measures taken by the DPRK, and continued to pressure and deter the DPRK."
He repeated that assessment again in a press conference on March 14.
As Pyongyang has not made any meaningful "denuclearization measures" in recent years – quite the opposite, in fact – Wang must have been referring to the aborted nuclear talks of 2018-19. Back then, Kim Jong Un offered a unilateral moratorium on nuclear and ballistic missile tests while engaging in diplomacy with first South Korea's then-President Moon Jae-in and then-U.S. President Donald Trump. But the talks fell apart when Trump walked out of the Hanoi summit in February 2019, refusing to accept Kim's offer of what was, essentially, a nuclear freeze in exchange for sanctions relief.
Notably, Kim did not pledge any meaningful movement toward denuclearization, and all the "denuclearization measures" it took at the time were purposefully and pointedly temporary (as shown by Pyongyang's rebuilding of the nuclear test site at Punggye-ri). Yet Beijing has now publicly ascribed blame for the break-down of nuclear talks – and the current escalation spiral – to the United States and South Korea for not "responding" to Pyongyang's offers.
In the arms race currently underway, blame is very much in the eye of the beholder. North Korea says it is forced to ramp up missile tests and military advancements due to the "hostile policy" of South Korea and the United States. Meanwhile, Seoul and Washington say they are being forced to increase joint military maneuvers on and near the Korean Peninsula, including by nuclear-capable U.S. assets, due to North Korea's provocations.
Through Wang's latest remarks, China is signaling that it is taking North Korea's side in the blame game – reflecting its own discomfort with Seoul's decision to seek closer military cooperation with the United States (and, perhaps more crucially, with Japan as well).
South Korea has long advocated for China to play a greater role in convincing North Korea to denuclearize. The latest blunt remarks make clear that Beijing is not interested in doing so – and, in fact, shares North Korea's perception of the South Korea-U.S. alliance as a "grave" threat.