Solomon Islands PM Visits China, 1 Year After Controversial Security Pact
Prime Minister Manasseh Sogavare is on his second trip to China – and his first since upending Pacific geopolitics with a China-Solomons security agreement.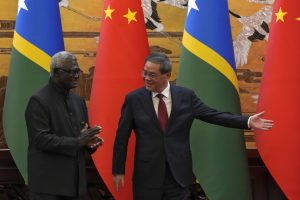 Leaders of the Solomon Islands and China promised Monday to expand relations that have fueled unease in Washington and Australia about Beijing's influence in the South Pacific.
Prime Minister Manasseh Sogavare met Chinese leader Xi Jinping and the country's No. 2 leader, Premier Li Qiang. Sogavare and Li presided over the signing of agreements on police, economic, and technical cooperation.
"We are here to further boost relations," Sogavare told Li following a ceremony at which a Chinese military band played the Solomon Islands national anthem.
China's Foreign Ministry said last week that Sogavare's visit would "inject new momentum" into relations and "deepen mutual political trust."
The Solomon Islands, 2,000 kilometers (1,200 miles) northeast of Australia, has been China's biggest success in a campaign to expand its presence in the South Pacific. Sogavare's government switched official recognition in 2019 to Beijing from Taiwan, the self-governed island democracy claimed by the mainland's ruling Communist Party as part of its territory.
The nearby island nation of Kiribati also switched official relations to Beijing in 2019.
Sogavare made his first trip to China in October 2019, shortly after establishing diplomatic ties. Sogavare and his Chinese counterparts focused on boosting economic relations – generally the top priority for countries that make the switch from recognizing Taipei to recognizing Beijing. China's premier at the time, Li Keqiang, told Sogavare that establishing ties would "greatly promote common development of the two countries" and mentioned "broad prospects for cooperation in such areas as fishery, forestry and mining industry."
During Sogavare's 2019 visit, his government signed onto to China's Belt and Road Initiative as well. In related projects, China's Huawei is building a cellular network in Solomon Islands, and in March 2023 China Civil Engineering Construction Company won a multi-million dollar contract to redevelop an international port in Honiara.
This time around, economic relations were once again the focal point of the visit.
"Solomon Islands, sir, has a lot to learn from China's development experience," Sogavare told Li. He welcomed an opportunity for dialogue to enhance "bilateral interaction and cooperation."
The two governments "have decided to establish a comprehensive strategic partnership of mutual respect and common development," Li said. "The relationship between China and the Solomon Islands has developed rapidly, and we can now say that it is very fruitful."
Meeting later with Sogavare, Xi said Beijing wants to expand relations and trade through its Belt and Road Initiative to build ports and other infrastructure from the Pacific across Asia and Africa.
"China supports more Chinese enterprises to invest and start businesses in the region," Xi said, according to state TV. "China understands that Pacific Island countries are facing severe challenges from climate change and is willing to strengthen exchanges and cooperation."
During the rest of his week-long visit to China, Sovagare will visit the eastern provinces of Jiangsu and Guangdong, hubs of economic activity. He is expected to meet with business leaders in a bid to court further Chinese investment.
Economic collaboration has proved controversial at home, however. Critics allege that Chinese investment strips Solomon Islands of its natural resources while primarily serving to enrich Sogavare and his allies.
Yet abroad, security cooperation between China and Solomon Islands has attracted the most attention – and concern.
In 2022, Solomon Islands signed a secretive security agreement with Beijing that might allow Chinese military forces in the South Pacific. Solomon Islands has seen frequent domestic unrest, including violent riots in fall 2021 – largely motivated by political divisions linked to Sogavare's decision to recognize China. Analysts fear that the security agreement would allow China to deploy troops to Solomon Islands to quash any future unrest – and thereby insulate Sogavare's government from any domestic opposition.
Furthering that possibility, agreements signed Monday by Solomon Islands and Chinese officials included an implementation plan for police cooperation through 2025.
Sogavare has rejected suggestions his government might give Beijing a military foothold in the region, and pointed out that Solomon Islands has similar security cooperation agreements in place with Australia. Notably, Australia led a lengthy peacekeeping missing in Solomon Islands from 2003 to 2017, with mixed results.
The security agreement sparked major concerns from the United States about ceding influence to China in the Pacific Islands. Since then, Washington has shored up its diplomatic efforts in the region, opening embassies in Solomon Islands as well as Tonga, with others planned to open in Kiribati and Vanuatu.
U.S. President Joe Biden convened a summit of Pacific Island leaders in September 2022 to unveil a strategy that included cooperation in climate change, maritime security and preventing overfishing. Biden promised $810 million in new aid for Pacific Island nations over the next decade, including $130 million to address the effects of climate change.
Biden was supposed to visit Papua New Guinea in late May for another summit with Pacific Island leaders. That trip, which would have made him the first sitting U.S. president to visit a Pacific Island country, was cancelled amid domestic political wrangling over the U.S. debt ceiling. However, even in Biden's absence, the United States signed a major new security agreement with Papua New Guinea. Another U.S.-Pacific Islands summit is planned for this fall.
Sogavare attended the first such summit in Washington, but he played the role of "spoiler" – insisting that even indirect references to China before removed from a joint statement before agreeing to sign.
However, it increasingly seems that he is out of line with other Pacific Island governments when it comes to China policy. Beijing's efforts to develop closer relations with other Pacific governments have largely failed.
Shortly after the China-Solomon Islands security pact was reached, China pushed aggressively for a pan-Pacific agreement that would greatly expand Beijing's influence in the region. China hoped to cement the deal during then-Foreign Minister Wang Yi's tour of eight Pacific Island countries in late May and early June of 2022. However, Pacific leaders rejected the draft, which many viewed as having been dictated by China and thus not serving Pacific interests. Analysts said that Chinese diplomats presented an already-complete draft of the agreement to Pacific Island leaders for review, rather than creating the agreement jointly through negotiations.
Henry Puna, secretary general of the Pacific Islands Forum, delivered a gentle rebuke in his remarks at the China-Pacific Foreign Ministers' Meeting on May 30, 2022: "[B]eing a Forum Dialogue Partner is not without its own expectations and responsibilities – chief among which, is to nurture a relationship that is respectful of our shared values, built on joint collaboration and partnership, works with and through our regional mechanisms and progresses mutually agreed priorities."