The Japan-South Korea-US Summit Is Bad News for China
The summit's deliverables directly contradict previous assurances Beijing had sought on limits to trilateral cooperation.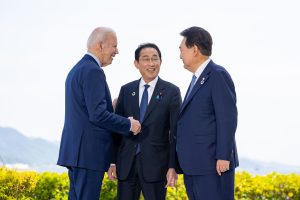 On August 18, the leaders of Japan, South Korea, and the United States met at Camp David, a presidential retreat in the U.S. state of Maryland. It was a historic moment – while the three countries have held numerous trilateral meetings in the past, such gatherings have always taken place on the sidelines of larger multilateral events (like the NATO Summit or the G-7 Summit). This was the first "standalone" trilateral summit – and it is supposed to be the first of many. One of the major outcomes of the meeting was a commitment to make such gatherings an annual affair.
"[O]ur countries are stronger and the world will be safer as we stand together.  And I know this is a belief we all three share," U.S. President Joe Biden declared as he welcomed Japanese Prime Minister Kishida Fumio and South Korean President Yoon Suk-yeol to Camp David.
"…I look forward to working with both of you as we begin this new era of cooperation and renew our resolve to serve as a force of good across the Indo-Pacific and, quite frankly, around the world as well," he added.
Kishida also expressed high hopes for the summit: "I wish to take this moment to raise the security … coordination between Japan, ROK, and the U.S. to new heights while strengthening the coordination between the Japan-U.S. and the U.S.-ROK alliances as we deepen our cooperation in the response to North Korea." (ROK is an abbreviation for the formal name of South Korea, the Republic of Korea.)
The historic step is due in part to the overt efforts by Yoon to mend South Korea's strained ties with Japan – to the extent that the South Korean president has even been accused of selling out his own country to advance the relationship. Throughout, Yoon has emphasized that he sees more intense cooperation with Japan as crucial to his country's security.
At Camp David, he made clear the point of the trilateral summit: to institutionalize progress already underway. "The stronger coordination between Korea, the U.S., and Japan requires more robust institutional foundations," Yoon said at the opening of the summit. "Moreover, challenges that threaten regional security must be addressed by us building a stronger commitment to working together."
Left unspoken was the point that otherwise, trilateral cooperation might not survive his administration, as his outreach to Japan has been unpopular in South Korea. Indeed, the initiatives announced at the summit themselves directly contradict assurances given by Yoon's predecessor, Moon Jae-in, to China.
Moon and the "Three Noes"
Back in 2017, the United States and South Korea began formally deploying the  Terminal High Altitude Area Defense (THAAD) missile defense system, a decision reached under impeached President Park Geun-hye. China had issued a series of dire warnings against THAAD deployment, and it backed up its talk with a series of unofficial – but still damaging – economic sanctions against South Korea.
Beijing banned group tours to South Korea and shut down K-pop concerts and K-drama airings in China. It's estimated that South Korea's tourism industry alone lost $24 billion from 2017 to 2019.
To address the economic damage, Moon undertook a concerted effort to repair ties with China. The end result was the "Three Noes": a pledge from the Moon administration not to deploy additional THAAD batteries, participate in a regional U.S.-led missile defense system, or join a trilateral alliance with the United States and Japan. While there were critics of Moon's commitment from the start, Troy Stangarone argued in a 2019 piece for The Diplomat that:
[T]he South Korean government promised nothing of substance to China. There were no THAAD batteries available to be deployed to the Korean peninsula at the time, and the idea of South Korea joining an integrated missile defense system – much less a trilateral alliance — wasn't a real option on the table at the time either  (even if the United States would like to see South Korea eventually move in that direction over time).
Now the situation has changed, and South Korea is indeed taking tentative steps toward turning the latter two "noes" into "yeses."
Where, Exactly, Is China's Red Line on Trilateral Cooperation?
Among the deliverables to be announced at the summit, according to a preview briefing by U.S. National Security Advisor Jake Sullivan, are a "multiyear" plan for trilateral military exercises, "deeper coordination and integration on ballistic missile defense, and improving information-sharing and crisis communication and the policy coordination that goes along with responding to contingencies in the Indo-Pacific."
From China's perspective, that will look an awful lot like laying the groundwork for a de facto trilateral alliance and a trilateral integrated ballistic missile defense network. From the mere fact that Moon offered assurances against these steps to resolve tensions with China, we know these points are extremely worrying for Beijing.
China has seen the writing on the wall for some time, with its Foreign Ministry demanding that South Korea uphold its "solemn statement" despite the change in administrations. "A commitment made should be a commitment kept despite a change of government," a ministry spokesperson said in July 2022. "When it comes to major sensitive issues concerning the security of its neighbors, the ROK side needs to continue to act prudently and find a fundamental solution to the issues."
For its part, the Yoon administration has been dismissive of the Three Noes. Foreign Minister Park Jin denied that the Moon government had even made a firm commitment to that end, telling the National Assembly that "The Three Noes policy is not something we had promised to China. As far as I know, (the government at the time) had only explained it as its position toward China." Indeed, there was never a formal signed agreement on the Three Noes.
Meanwhile, Sullivan, even while repeatedly noting the "historic" nature of the summit and its outcomes, attempted to downplay talk of establishing a three-way alliance. "We have not set an endpoint of a formal trilateral alliance," he told reporters ahead of the summit. We have strong and deep and decades-long bilateral alliances with both Japan and the ROK. We would like to see them continue to strengthen their cooperation and for this three-way cooperation to get deeper and more institutionalized."
He also attempted to reassure China that "this summit today, this partnership is not against anyone. It is for something. It is for a vision of the Indo-Pacific that is free, open, secure, and prosperous."
China is unlikely to be mollified by either Sullivan's statements or the Yoon administration's insistence that the Three Noes were never really a promise in the first place. So far, Beijing's response has been fairly muted, even if it's disapproval is clear. "No country should seek its own security at the expense of other countries' security interests and regional peace and stability," Foreign Ministry spokesperson Wang Wen said on a press conference on August 18, ahead of the summit.
"The international community has its fair judgment on who is stoking conflicts and exacerbating tensions… Attempts to cobble together various exclusionary groupings and bring bloc confrontation and military blocs into the Asia-Pacific are not going to get support and will only be met with vigilance and opposition from regional countries."
The big question, moving forward, is exactly where China believes trilateral cooperation crosses the line into an alliance-esque arrangement – rather than coordination between the Japan-U.S. and South Korea-U.S. alliances. On ballistic missile defense, in particular, Beijing has serious concerns that coordinated defenses by its near neighbors could cripple its ability to threaten the United States with a second-strike ability. The strength of that particular red line was made clear through China's economic coercion of South Korea after the THAAD deployment.
China paid for that pressure, as public sentiment in South Korea turned sharply against Beijing and has not yet recovered. But the United States paid a price as well – its curious disinterest in supporting a key ally against China's economic coercion was a key factor that forced Moon into publicizing the "Three Noes" in the first place. This time, then, Washington must be better prepared to defend South Korea from potential retaliation if it really wants trilateral relations to stand the test of time.