Why Thailand Should Mediate the Crisis in Myanmar
The case for proactive, multilateral, pro-peace diplomacy.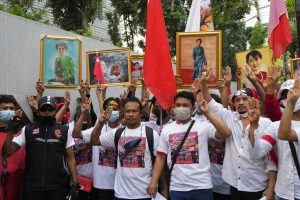 The past two-and-a-half years have seen Myanmar enmeshed in a spiraling political crisis.
Since the 2021 coup that toppled a civilian-led government under the National League for Democracy (NLD), the country has been embroiled in a civil war during which at least 3,800 civilians have been killed by the military, and another 23,000 have been arrested. The military and affiliated forces have cracked down upon dissent, opposition, and civil society organizations that they perceive as a threat to their tenuous grip on power.
The civil war has also triggered an ongoing humanitarian crisis, with a large number of internally and externally displaced persons. Estimates suggest that up to 1.6 million people have been internally displaced since the coup. Up to 9,000 refugees are now seeking shelter in Mae Sariang district in northwestern Thailand, where humanitarian aid is provided.
While most of the pro-democracy resistance have coalesced around the National Unity Government (NUG), there are also select fringe militias and ethnic armed groups that have taken the opportunity to engage in territorial expansion and reenact long-standing rivalries. It is likely that neither the incumbent government nor the fragmented and structurally disadvantaged opposition rebels will prevail anytime soon.
While Myanmar's military government is rumored to have withdrawn from chairing the Association of Southeast Asian Nations (ASEAN) in 2026, the actions of the officially non-recognized and illegal regime in Myanmar have widened the existing fissures within the regional bloc. The fundamental question concerns the extent to which principles of democratic legitimacy and minimal norms of decency should be upheld, even at the expense of ASEAN solidarity and consensus.
An ASEAN that refuses to speak up for the interests of the ordinary citizens of its member states  would have its legitimacy and credibility significantly eroded; but an ASEAN that merely vocally repudiates the junta regime without creating a clear off-ramp or showing any ability to exert actual influence over Naypyidaw, would be fundamentally ineffective in pursuing the goals of partial normalization and restoration of a less malign political order in Myanmar. The bloc's Five-Point Consensus peace plan that was agreed in Jakarta in April 2021 by ASEAN's member states, including Myanmar's military junta, remains under-enforced and only partially implemented.
Efforts by current ASEAN chair Indonesia to juggle these interests through "quiet diplomacy" – exerting pressure on the military government through discreet, back-door negotiations as opposed to high-profile, public talks and discourse – have yielded some, albeit limited, successes. While the junta has authorized selective passage to humanitarian assistance and delegations by high-level United Nations officials, the aid is often held up and obstructed by vindictive local military personnel. Deposed leader Aung San Suu Kyi had been granted a partial pardon, but the move was more symbolic than substantive: she still faces 14 cases and 27 years in prison, and remains under house arrest.
Thailand's Unique Position
The above challenges raise the question: Could Thailand, as the ASEAN member most geographically proximate and historically connected to Myanmar, have a greater role to play? It is clear that Thailand is uniquely positioned in several distinctive ways, which has two clear implications. The first is that Thailand has an obvious stake in bringing about peace in Myanmar, beyond the obvious moral and humanitarian imperatives. The second is that among ASEAN's member states, Thailand is best-placed to play a critical role as a mediator between the Tatmadaw, the NUG, the Myanmar public, and other opposition forces.
On the latter point, the Thai political establishment plausibly has the most personnel and interpersonal access to past and present senior leaders of the Tatmadaw. The Thai and Myanmar armed forces are close collaborators on regional peacekeeping and anti-drug trafficking operations, with generals on both sides on personally friendly terms. To take one example, in 2012, Senior Gen. Min Aung Hlaing was named the "adopted son" of Prem Tinsulanonda, the former chief of the Royal Thai Army (RTA). In 2014, the post-coup government in Thailand received official endorsement from the Myanmar military. Both governments are known to advocate economic and security cooperation in relation to the infamous Golden Triangle.
With Thailand set to embrace a new, civilian-led government with clear military representation in the coming weeks, the RTA will remain a significant player in the country. The long-standing connections between Thai military elite and the Tatmadaw should be harnessed by the incoming administration in order to pursue substantial concessions regarding Myanmar's brutally oppressed activists and political prisoners. It is also in the interests of the incoming Pheu Thai-led government to shift Thailand's Myanmar policy away from unquestioning accommodation, to strategic engagement with clear moral baselines.
Secondly, Thailand and Myanmar are highly economically interconnected. A volatile Myanmar caught in developmental limbo is not in the interest of its eastern neighbor, with which it shares a 2,416-kilometer border – the longest among its five borders.
Thailand is the second-largest trading partner of Myanmar, though bilateral trade has significantly declined in recent years due to a combination of political instability and tightened border controls. Tatmadaw-imposed restrictions concerning equalizing exports and imports, and stipulating that payments must be made via a junta-controlled bank, have damaged business confidence, as well as creating huge bottlenecks at land border crossings. Additionally, Myanmar's labor market faces substantial vulnerabilities, with war-related disruptions contributing towards a labor productivity drop of 10 percent since 2019, with nearly half of households experiencing food access concerns.
These business-related considerations, coupled with Thailand's significant dependence upon Myanmar for energy production and imports, highlight the urgent need for Bangkok to act. Stabilizing and reviving supply chains and securing Thai businesses and investors' interests in the country requires both military and rebel factions to arrive at a sustainable modus vivendi.
Thirdly, Thailand has long played an integral role in shaping the diplomatic outlook and strategy adopted by ASEAN. As one of the founding members of the organization and a key regional player during the Cold War, Thailand had been a primary promulgator of "mediator diplomacy." In 1961, with the only three members then in the Association of Southeast Asia (ASA) locked in a bitter Konfontasi in Malaysia, Thailand sought to provide a neutral foundational space for Southeast Asian nation-states to explore the space for a Southeast Asia-centered and -driven economic grouping, eventually culminating in the establishment of ASEAN in 1967.
Since then, Thailand played a key role in nudging ASEAN members to weigh non-intervention over calls for changes to the totalitarian Khmer Regime (more indicative of intricate balancing of powers between the USSR and China than perhaps any substantive normative position). It also advocated the establishment of the ASEAN Free Trade Area in the 1990s, and addressed the challenge posed by insurgent groups along the Thai-Malay border and in Southern Philippines. Recent years have seen a reduction in Thailand's mediation capacity, as its attention has shifted precipitously towards deepening ties with and balancing between Beijing and Washington, and away from intervening non-militarily in regional disputes and disagreements. If Thailand wishes to revive its erstwhile leadership functions within ASEAN, it needs to play a more active role to resolve Myanmar's crisis.
Why Unilateralism Won't Work
Thailand's responsibilities cannot be discharged unilaterally. The two-person meeting in early July between Foreign Minister Don Pramudwinai and Aung San Suu Kyi, three days prior to the official ASEAN Foreign Ministers' Meeting on July 11-12, risked derailing efforts by the regional grouping to broker a viable path forward. Initiated by the outgoing Thai government, the meeting offered the Tatmadaw a substantial PR victory, with minimal substantive gains for most in the opposition movement. The comments that Aung San Suu Kyi purportedly made – that she was in favor of "dialogue without any preconditions" – were unverifiable.
Unilateralism will not work. If the Tatmadaw perceives that it can successfully pick and choose from amongst ASEAN members the prospective interlocutors and negotiating "partners," it will likely to continually drive a wedge between Thailand and other ASEAN powers, offering selective and tokenistic access to the former in exchange for reduced pressures from the other eight member states. This move would also destabilize Thailand's soft power and stature in the eyes of the other governments, thereby diluting the attention and scrutiny of key stakeholders in ASEAN towards the abuses of the junta regime in Myanmar.
Fundamentally, the Five-Point Consensus has repeatedly affirmed that all solutions to the Myanmar crisis must be led by and steered in accordance with the foundational principles of ASEAN. The need for consensus be inherently restrictive, but the solution should be to advocate reformulations of this norm, as opposed to bypassing it altogether. In seemingly recognizing the legitimate standing of the Tatmadaw as the representatives of the people of Myanmar, the outgoing Thai administration risks upsetting the delicately forged equilibrium that has drawn upon the heterogeneity of ASEAN as a strength, whilst maintaining a consistent underlying line. The "shuttle diplomacy" of Indonesia, and the "access-based diplomacy" practiced by Thailand, can and should complement one another.
The Case for Proactive, Pro-Peace Diplomacy 
The incoming administration in Bangkok should invest in significantly greater humanitarian support infrastructure for incoming refugees, and aid to internally displaced persons and victims of the ongoing civil strife in Myanmar. Incoming civilians should be carefully housed and allocated to minimize the burdens placed upon the regions neighboring Myanmar, such as Mae Sai and Mae Sot districts. Both Chinese and American resources should be mobilized to support this effort, though ASEAN countries should also play a role in devising a shared financial support scheme for humanitarian initiatives to be implemented primarily by Thailand.
The Thai government should keep communication channels open with the junta,  while emphasizing that it does not thereby recognize the military regime as legitimate. Other ASEAN member states should also be incorporated into these conversations, or at least be kept abreast of the substantive contents discussed by these talks. Additionally, Bangkok should deepen its unofficial ties with the NUG, as well as more radical ethnic minority militias operating in Myanmar. The overarching aim here is to convince all parties of the possibility and value in partial ceasefires or de-escalation (a complete cessation of violence is unlikely to materialize anytime soon, and we must be realistic.)
Thailand should also prioritize the brokering of closed-room dialogues, with precise stipulations of ceasefire, between all parties of interest, both within Myanmar, with the NUG and other major factions present, and in other locales in ASEAN. Each of these dialogue sessions should be driven by precisely defined and clearly achievable objectives, e.g. the establishment and maintenance of the humanitarian corridor, the status and welfare of political prisoners, and the security of the Myanmar-Thailand border.
Some may argue that the above cedes too much ground to the junta, and that full accountability in the form of an immediate relinquishing of control is the only outcome ASEAN states should accept. As sympathetic as we may be to these views, however, it is imperative that we recognize the practical constraints on what is possible. The Tatmadaw may accept a controlled reduction to its scope of influence, as well as a reduction in the level of violence and the intensity of the conflict. Yet to ask for it to dissolve itself with immediate effect would be fundamentally futile. Thailand should instead lobby for civilian representatives to be granted a clear and meaningful say over the peace-brokering process, as well as guarantees of the freedoms and rights of political prisoners still held in captive or in hiding in Myanmar.
Ultimately, the divisions that have emerged between the ASEAN states are not sustainable, and require urgent redress. Last December, Thailand hosted a meeting with Myanmar's top diplomat, as well as counterparts from Cambodia and Laos, with Vietnam's deputy foreign minister present. The meeting was not attended by the other five ASEAN states, who have systemically ruled out liaising openly with the military administration. From ASEAN's perspective, a clear roadmap to normalization, with clearly defined objectives that collectively pave the way for the restoration of civilian rule in Myanmar, must be offered as the carrot, alongside a stepping-up of the punitive "stick" — beyond sanctions alone. A carrot-and-stick approach, as clichéd as it may seem, is perhaps the best model that can draw upon the disparate levels of interconnectivity and mutual dependence between Myanmar and the other member states of ASEAN.