Should the US Help India Defeat China's Navy?
A new study argues yes, and pushes for closer defense ties between New Delhi and Washington.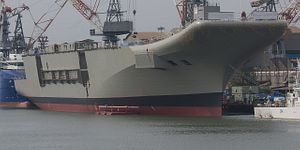 A new paper by the Carnegie Endowment for International Peace argues that India and the United States should collaborate on building New Delhi's next Vikrant-class aircraft carrier, the 65,000 tons nuclear-powered INS Vishal, expected to enter service in the 2020s.
"Working in concert to develop this vessel would not only substantially bolster India's naval combat capabilities but would also cement the evolving strategic bond between the United States and India in a truly spectacular fashion for many decades to come," Ashley J. Tellis, the author of the Carnegie study, underlines.
In January 2015, both countries announced a joint working group to share aircraft carrier technology and design. The Pentagon selected Rear Adm. Thomas Moore, the Navy's two-star program executive officer for aircraft carriers, to lead the U.S. delegation in discussions. India will be represented by Rear Admiral Surendra Ahuja, a former Indian test pilot. However, so far, the working group has not met once.
Tellis uses the working group announcement as an impetus to push for even closer cooperation between New Delhi and Washington. He assesses that India is more likely to consider deeper defense ties given the growing Chinese naval threat in the Indian Ocean:
[N]o country today would profit as much from collaborating with the United States in carrier design and construction as India at a time when its local dominance in the Indian Ocean is on the cusp of challenge from China's People's Liberation Army Navy (PLAN), which commissioned its first aircraft carrier in 2012.
Tellis offers 5 broad recommendations for U.S. policymakers to consider:
Explore the possibility of equipping India's carrier with the electromagnetic aircraft launch system (EMALS).

Offer India access to various advanced aviation systems, such as the U.S. Navy's E-2C/D Hawkeye for airborne early warning and battle management and the fifth-generation F-35C Lightning strike fighter, so as to permit the Indian Navy to secure a combat advantage over its rivals' air wings.

Consider changes to current U.S. policy to allow for discussions about nuclear propulsion technology in order to, among other things, make the integration of EMALS technology a viable option for India's next-generation carrier.

Support a partnership between the Indian Navy and the U.S. Naval Sea Systems Command, and U.S. private industry as appropriate, to validate the vessel's engineering and production designs, imbibe best practices from the U.S. experience when constructing the carrier, and coordinate on sea trials prior to commissioning the ship.

Encourage the conclusion of consulting contracts and memoranda of understanding between Indian shipyards and U.S. industry to assist India in incorporating advanced construction techniques when building its new large-deck carriers.
Some of the recommendations, such as India acquiring the F-35C, can be discarded right away, since India is still tied to the Perspective Multi-role Fighter (PMF) project (see: "What's the Status of the Indian-Russian Fifth Generation Fighter Jet?") and, despite setbacks, is unlikely to abandon it.
Other suggestions, however, like equipping India's carrier with the electromagnetic aircraft launch system (EMALS), appear more realistic. "I'm optimistic about cooperating with them on that," U.S. Defense Undersecretary for Acquisition, Technology, and Logistics Frank Kendall, recently told Reuters.
Conversely, despite all of the rhetoric, the core of the problem remains that there is no common strategic vision between the two nations. The China threat alone will not suffice to convince a deeply skeptical Indian foreign policy elite of the need for deeper cooperation with the United States at the risk of alienating Beijing.
The omnipresent "China threat" is one of the usual arguments in the playbook used by D.C.-centric hedgehog analysts suffering from the "Gathering Storm Syndrome" (I wrote about it here and here), but an argument that unfortunately fails on many analytical levels. At the end of the day, we are likely to see some level of Indo-U.S. technical cooperation; however, as long as New Delhi and Washington cannot align their core security interests in Asia, prospects for a closer partnership are slim.