1 Year Later: Reflections on China's Oil Rig 'Sovereignty-Making' in the South China Sea
What is the long-term significance of China's decision to move an oil rig into Vietnam's exclusive economic zone in May 2014?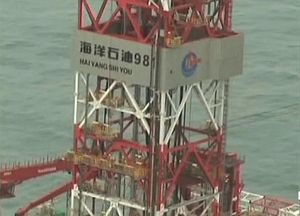 One year ago, China's state-owned China National Offshore Oil Company (CNOOC) moved an exploratory oil rig, Haiyang Shiyou 981 (HD-981), worth an estimated $1 billion, into waters within Vietnam's exclusive economic zone. The incident sparked a major bilateral crisis between the two countries—both of whom claim the disputed Paracel Islands. In hindsight, the event marked the start of China's attempts to change the status quo in the South China Sea by committing its civilian and non-military assets to disputed areas.
The timeline of the HD-981 stand-off was recently featured in the U.S. Department of Defense's 2015 report on China's military. On May 3, 2014, Hainan province's Maritime Safety Administration declared that the oil rig would begin drilling operations off the disputed Paracel Islands, ending in August that year. The next day, Vietnam's government protested the Chinese announcement. China declared a 3 nautical mile security radius around the oil rig, far exceeding the 500 meter safety zone state parties to the United Nations Convention on the Law of the Sea are entitled to under that treaty.
Beginning May 11, Vietnam erupted in anti-China protests. The protests resulted in Chinese businesses being harassed and attacked; several foreign-owned factories were damaged as part of the protests. The Vietnamese media featured incidents off Vietnam's coast involving Chinese coast guard ships and Vietnamese fishing vessels colliding. China had deployed civilian fishing vessels, coast guard ships, and a limited number of People's Liberation Army Navy assets to protect the waters around HD-981. On May 26, a Vietnamese fishing boat capsized after colliding with a Chinese fishing boat. Ultimately, China evacuated its citizens from Vietnam after two of its citizens died during the protests.
In June, in an attempt to defuse tensions, Chinese State Councilor Yang Jiechi visited Vietnam for a frosty visit with Vietnamese officials, including the Deputy Prime Minister and Foreign Minister Pham Binh Minh and Prime Minister Nguyen Tan Dung. The visit led to little concrete progress on the dispute, but prevented escalation. Dung remained adamant that China's actions violated Vietnam's territorial integrity and sovereignty. Pham, for his part, traveled to the United States later in the year. When he returned to Hanoi, he returned with an assurance that the United State's long-standing arms embargo against Vietnam would be lifted, specifically for equipment that would help Vietnam improve its maritime safety. The HD-981 incident gave U.S.-Vietnam relations a helpful jolt.
At the time, The Diplomat featured several takes on China's logic in sending HD-981 into the contested waters. Carl Thayer described the incident as "unexpected, provocative, and illegal." I explored the reasons the move made strategic sense for Beijing. Dingding Chen claimed that the deployment of the rig was "not a strategic mistake" for China. After China withdrew the rig, in July, sooner than anticipated per the Maritime Safety Administration's announcement, Thayer offered an analysis, suggesting that political pressure and geopolitical considerations forced China's hand. He added that the incident and Vietnam's response suggested that Hanoi had demonstrated resolve in the face of Chinese assertiveness. (Meanwhile, Robert Farley cautioned against over-emphasizing reputational costs in understanding the crisis.) Other commentators suggested that the early withdrawal suggested a "recalibration" of China's policy.
The HD-981 incident will remain a case study in China's approach to asserting its territorial claims in the South China Sea. Of course, since May 2014, we've seen that the extent of China's ambitions in its near seas is growing. For example, the topic du jour here at The Diplomat these days seems to be China's massive land reclamation activities in the Spratly and Paracel Islands. HD-981 was by no means the "beginning" of China's assertiveness in the South China Sea, but it was a clear inflection point. A year later, China's relations with Vietnam have somewhat recovered, but they won't be back to the pre-May 2014 "normal" anytime soon. Vietnam's skepticism of China's South China Sea intentions has become more of a driver of its foreign and security policy than ever before. For Hanoi, everything changed last summer.