India, Russia To Sign $3 Billion Nuclear Sub Deal This Week
India and Russia are set to sign a $3 billion lease agreement for a nuclear-powered attack sub on March 7, according to local media reports.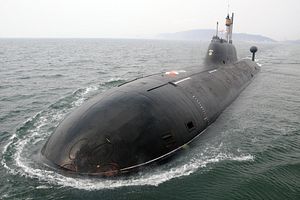 India and Russia are expected to conclude an intergovernmental agreement for a 10-year lease of a Russian nuclear-powered attack submarine (SSN) this week. The deal, estimated to be worth around $3 billion, will likely be inked on March 7, according to sources cited by The Economic Times. Neither the Indian nor Russian defense ministries, however, have officially confirmed that a signing ceremony will be held in the coming days.
This will be the third instance of a Russian submarine leased to the Indian Navy by Moscow. In 1988, the Navy inducted a Project 670 Skat-class (NATO classification: Charlie-class) nuclear-powered cruise missile submarine, rechristened INS Chakra, on a three-year lease. In 2012, a second INS Chakra, the retrofitted K-152 Project 971 Akula-class Nerpa, was leased for 10 years. The Chakra was officially commissioned by the Navy in 2012 and currently serves with the Eastern Naval Command. India and Russia are currently discussing extending the lease for another five years to 2027.
The new sub, designated Chakra III, purportedly the Russian Navy's K-322 Kashalot (Akula II-class) SSN, is expected to be ready for service by 2025. It is currently mothballed at a Russian naval shipyard in Severodvinsk. (Notably, there have also been reports that senior Indian naval officers inspected to other SSNs for possible transfer to India in 2018, the K-391 Bratsk and K-295 Samara–both serving with the Russian Pacific Fleet. It should be understood that the selection of the Kashalot has not been officially confirmed.)
Following the signing of the intergovernmental agreement this week, work on the sub is expected to start with heavy Indian involvement in 2019, however that timeline may shift depending on how quickly the detailed lease contract can be signed. The SSN is reportedly going to be fitted with Indian communication systems and sensors and will feature a refurbished hull.
While not named in the report, these Indian-made systems will likely include the indigenously-developed USHUS integrated sonar system as well as the Panchendriya sonar, a unified submarine sonar and tactical control system. The same systems have been installed on the INS Arihant, the first of five planned nuclear-powered ballistic missile submarines (SSBN) for the Indian Navy. The INS Arihant quietly commissioned  in 2016, is also based on the Russian Project 971 Akula I-class SSN. The ballistic missile sub allegedly completed its first deterrent patrol in 2018.
Based on open source information regarding the Akula II-class, the 8,140-ton Chakra III will have a submerged speed of 30 knots and an operating depth of 530 meters. It will hold a crew of 73. Furthermore, the SSN is armed with four 650-millimeter and four 533-millimeter launch tubes for firing Russian-made Type 65 and Type 53 torpedoes. The sub will likely use a 190 mW nuclear reactor for propulsion. As I reported in 2015, the Kashalot  reportedly achieved a Russian Navy record in the summer of 1991 by trailing foreign submarines for over 14 days without interruption.