Japan to Receive Additional US Supersonic Ballistic Missile Interceptors
Japan will take delivery of additional Standard Missile-3 Block IIA interceptors, according to the Pentagon.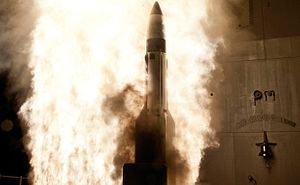 The Japan Self Defense Force (JSDF) is slated to receive four additional Standard Missile-3 (SM-3) Block IIA interceptors by December 2022, the U.S. Department of Defense (DoD) announced on November 1.
U.S. defense firm Raytheon Missile Systems won a $267 million contract modification for the production and delivery of 20 SM-3 Block IIA missiles for the U.S. Navy and four missiles to the JSDF.
This latest development comes after the U.S. Department of State (DoS) approved a possible sale of 73 IIA interceptors for an estimated cost of $3.295 billion to Japan in August 2019.
"This proposed sale will support the foreign policy and national security of the United States by improving the security of a major ally that is a force for political stability and economic progress in the Asia-Pacific region," a Defense Security Cooperation Agency (DSCA) statement read at the time.
The DoS approved an earlier sale of eight SM-3 Block IB missiles and 13 SM-3 Block IIA missiles for an estimated cost of $561 million in November 2018.
The SM-3 Block IIA is designed to destroy short- to intermediate-range ballistic missiles. It is the most advanced version of the SM-3 "hit-to-kill" interceptor series and has been under joint development by U.S. defense contractor Raytheon Missile Systems and Japan's Mitsubishi Heavy Industries (MHI) since 2006. As I explained previously:
Raytheon has been responsible for the SM-3 Block IIA's hardware, system development, and all-up-round integration. MHI oversees the development of the interceptor's second- and third-stage rocket motors, steering control, and the missile nosecone.

It can be employed on Aegis-equipped guided missile destroyers and on Aegis Ashore batteries. Japan is expected to acquire two such land-based missile defense systems by 2023.
The two batteries will be stationed in Japan's Akita and Yamaguchi prefectures. The U.S. Missile Defense Agency (MDA) and U.S. Navy conducted a successful test of a SM-3 Block IIA intercepting an intermediate-range ballistic missile target in December 2018. As I explained at the time:
The December 11 intercept marks the second successful test of a SM-3 Block IIA missile in 2018. On October 26, a SM-3 Block IIA missile launched from the Arleigh Burke-class guided missile destroyer USS John Finn (DDG-113) successfully destroyed a medium-range ballistic missile target launched from the PMRF. A previous successful test of the Aegis Baseline 9/5.1 BMD combat system with a SM-3 Block IIA missile took place in February 2017. Two other tests of the missile in June 2017 and January 2018 ended in failure.
There are also plans to test a SM-3 Block IIA interceptor against an intercontinental-range ballistic missile target by December 2020. However, it is uncertain whether such a test will take place under this timeframe due to budgetary reallocations under the FY2020 National Defense Authorization Act (NDAA).