Kazakhstan Suspends Arms Exports for a Year
The decision was immediately framed in the press as related to the war in Ukraine, but we know very little about Kazakhstan's arms exports.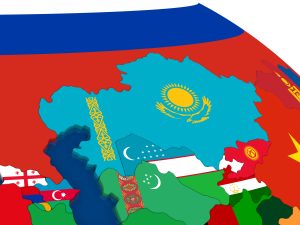 In a brief press release, the office of Kazakhstan's prime minister announced that the country would suspend exports of all weapons, military equipment, and military products for a year.
Kazakhstan has not clarified the motivation behind the suspension, though many observers have immediately turned toward the Russian war in Ukraine as a factor. 
The decision came after a meeting of a defense industry commission at which the Ministry of Industry and Infrastructure Development submitted the suspension proposal.
Nur-Sultan is not a major arms exporter. While SIPRI's renowned databases on international arms transfers included data on imports over the last decade to Kazakhstan of everything from second-hand transport aircraft from Ukraine, light helicopters from Germany, and armored vehicles from Israel, the database had nothing to offer on Kazakh arms exports. The majority of arms imported into Kazakhstan over the last decade were, naturally, from Russia.
Increasingly, Kazakhstan has sought joint efforts in the domestic production of military equipment. Earlier this year, state-owned Kazakhstan Engineering and Turkish Aerospace Industries (TUSAS) signed a memorandum of understanding on the joint production of TUSAS' ANKA unmanned aerial vehicle in Kazakhstan.
Kazakhstan's defense industry does produce a range of military equipment from armored vehicles to guns, grenades, and protective gear, though for domestic use. This summer, Kazakhstan announced it would expand its defense budget by 441 billion tenge ($918 million). Kazakhstan's defense budget for the previous year was $1.7 billion, making the increase a sizable additional commitment.
As with the recent news of the suspension of arms exports, the increase in Kazakhstan's defense budget was filtered through the lens of Ukraine and Kazakhstan's relationship with Russia in light of Nur-Sultan's reluctance to voice full-throated support of Moscow's military actions. 
Kazakhstan has taken a nuanced approach to the conflict in Ukraine, recognizing its own geographic and political position. Nur-Sultan has sought to balance between Russia and the West, maintaining regular diplomatic engagement with Moscow, including Kazakh President Kassym-Jomart Tokayev traveling to St. Petersburg this summer to attend the St. Petersburg International Economic Forum 2022 but also sticking to its decision not to recognize breakaway regions of Ukraine as sovereign. Similarly, Kazakhstan has pledged not to assist Russia in dodging sanctions while also not imposing its own sanctions and absorbing Russian businesses looking to relocate. 
The Kazakh president most recently met with Russian President Vladimir Putin on August 19, in Sochi, Russia. The two highlighted their strategic partnership, 30 years of relations, trade volumes, and Kazakhstan's chairing of the Commonwealth of Independent States (CIS) this year. In mid-October, Kazakhstan will host the annual CIS summit in its capital, Nur-Sultan, and Putin noted the upcoming CSTO military drills to take place in Kazakhstan, also in October.
Some have read the arms export suspension as yet another knock against Russia, but it's not so clear that that is the case. It may be the opposite. According to Euractiv, for example, "The Russian press carried publications alleging that Kazakhstan exported arms and ammunition to Ukraine via proxies, by order from the UK." Without more concrete information, how the decision is viewed depends entirely on the framing used and which rumors are believed.
Perhaps overlooked by international reporting on the decision is the context of Kazakhstan's domestic situation — violent protests in January necessitated a violent crackdown and spooked the Tokayev administration into asking for a CSTO deployment. That may be motivation enough for both a boosted defense budget and nixing of exports in order to meet domestic needs first. Ultimately, we know very little about Kazakhstan's decision to suspend military exports for a year and what the practical implications of that decision are.