Russia Remains India's Largest Arms Supplier (For Now)
This week, India's Defense Ministry released details of where it spent its money over the last couple of years.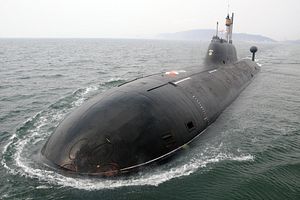 Russia remains the largest supplier of military equipment to India, according to information supplied by India's Ministry of Defense and quoted by TASS.
Over the past three years, Russian defense deals with India exceeded 340 billion rupees (over $5 billion), with the United States coming in at a close second with 300 billion rupees (around $4.4 billion) in deals. Over the last three fiscal years, Russia was also able to claim the majority of signed defense contracts, India's defense ministry states:
From 2012-2013 to 2014-2015 fiscal years, 162 arms purchase contracts were signed, among them 67 with other countries, including Russia (18 agreements), the United States (13) and France (six).
Russian equipment made up around 75 percent of all of New Delhi's weapons imports from 2004 to 2014. From 2009 to 2013, India and Russia signed defense deals worth an estimated $30 billion. (In comparison, France signed contracts worth $30 billion and the United States contracts worth $11 billion during the same time period.)
However, these statistics cannot hide the fact that Russia has been steadily losing market share in India to Western suppliers as India is trying to diversify its arms portfolio and also sees some success at establishing an indigenous defense industry.
For example, in 2014 the United States supplanted Russia as India's top weapons supplier, with the total value of U.S. imports increasing from $200 million in 2009 to $2 billion in 2014.
U.S. defense contractor Boeing alone has won bids to supply the Indian military with ten C-17 Globemaster-III strategic airlift aircraft (worth $4.1 billion), eight P-8I maritime patrol aircraft (worth $2.1. billion), 22 AH-64E Apache, and 15 CH-47F Chinook helicopters (both helicopter deals have a combined worth of $2.5 billion).
The French aircraft maker Dassault Aviation is in the final steps of a concluding a contract for the sale of 36 Rafale fourth-generation multirole fighter jets to the Indian Air Force at an estimated cost of $9 billion. In addition, European defense contractor EADS has been selected to supply six Airbus A330 Multirole Tanker Transport aircraft for the Indian Air Force in a $1 billion tender.
In addition, India and Russia have failed to move forward on a number of joint projects including a medium-airlift military transport aircraft, the UAC/HAL II-214 Multi-role Transport Aircraft (MTA), and a joint Indo-Russian fifth generation fighter jet program.
Furthermore, Russia has had difficulties in meeting the so-called "Make in India" clause in some defense contracts, including in a recently concluded government-to-government deal over the purchase of 200 Kamov-226T.
Despite all of that, Russia will remain India's most important supplier of defense equipment for some time, given that the majority of India's weapons systems are of Russian origin. This will only gradually change over the next decades. Given India's murky procurement process, it is also important to keep in mind that the statistics above are only taking into account initial contract awards and the winners of Indian government tenders and do not include actual weapon deliveries or payments.