South Korea to Receive First Two F-35A Stealth Fighters by the End of March
The two aircraft are expected to be operationally deployed in April or May 2019.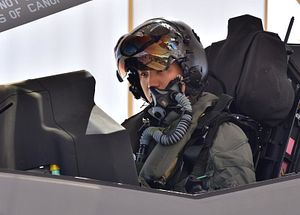 The Republic of Korea Air Force (ROKAF) is expected to take delivery of the first batch of two F-35A Lightning II fifth-generation stealth fighters in South Korea by the end of March, according to a military source.
"Two F-35As out of 10, which the Air Force will receive this year, will arrive in South Korea by the end of March. They will be deployed by around April or May," the source is quoted as saying by The Korea Times.
A total of ten F-35As is expected to be delivered to the ROKAF by the end of 2019, the source added. The entire delivery of 40 F-35A fighter jets will be completed by 2022. As I reported elsewhere:
The Republic of Korea and U.S. government officially signed a Letter of Offer and Acceptance for the purchase of 40 F-35A fighter jets in September 2014 under the Pentagon's FMS program. Total acquisition costs are estimated at around USD$7 billion. (…)

The F-35As manufacturer, U.S. defense contractor Lockheed Martin, won the $7 billion contract by offering 25 technologies used on the F-35A to support South Korea's indigenous $15 billion KF-X fighter program. However, the U.S. government did not share four key F-35A technologies including active electronically scanned radar, the infrared search-and-rescue systems, the electro-optical targeting pod and the radio frequency jammer, which detrimentally affected bilateral defense relations for a while.
To date, the ROKAF has taken delivery of six F-35As at Luke Air Force Base in Arizona. Beginning in 2017, ROKAF fighter pilots were dispatched to the base to receive flight training for the jets. A F-35A pilot conducted his first F-35A solo mission in July 2018.
The first ROKAF F-35A was rolled out in March 2018 at a Lockheed Martin production facility in Fort Worth, Texas, where all forty F-35As will be assembled. The Republic of Korea's Defense Acquisition Program Administration has reportedly also initiated the procurement process for an additional 20 F-35As.
The ROKAF's F-35As will all be stationed at Cheong Ju air base.
The F-35A will be a key component of South Korea's so-called Kill-Chain pre-emptive strike program, which is part of the ROK government's strategy to deter North Korean aggression.
The ROKAF is also in the process of upgrading 134 out of 170 KF-16C/D Block 50/52 fighter jets, a license-produced variant of the General Dynamics F-16 Fighting Falcon, which is expected to be completed by 2025. South Korea will also design and build its own air-launched long-range bunker buster cruise missile, modeled after the Taurus KEPD 350 long-range precision-guided cruise missile.