Bangladesh's China-India Balance
In the energy sector especially, Bangladesh aims to exploit the balance of power between China and India.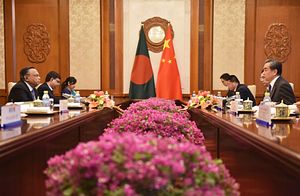 While China's domination of the telecommunications industry in Asia has become a fact of life, the world power has established a foothold in another sector in Bangladesh: the energy industry. Plagued by persistent energy crises, the South Asian country has turned to courting foreign direct investment to fill its ever-growing gap between energy consumption and supply. For its part, China seems willing to foot the bill. China Huadian Hong Kong Company Limited agreed to construct one power plant in Bangladesh last year, and PowerChina partnered with a British counterpart to build another earlier this year.
"Bangladesh has for some time been constrained by energy supply problems, and this has led the government to explore foreign investment options," said David Lewis, a professor of social policy at the London School of Economics and author of Bangladesh: Politics, Economics, and Civil Society.
The South Asian country has long struggled with power outages. In 2014, one blackout affected as many as 100 million Bangladeshis, over 60 percent of the population.
"As a developing country, Bangladesh is badly in need of energy," said Krishna Kumar Saha, an assistant professor of public administration at Cumilla University. "An energy crisis can hamper the country's development process, which might bring instability. Therefore, Bangladesh wants to bring foreign direct investment to the energy industry to improve the energy situation quickly."
As almost 30 percent of Bangladeshis lack electricity, companies from Britain, China, India, and the United States have raced to invest in the energy industry in Bangladesh. China appears to be winning the competition, eclipsing India as Bangladesh's largest partner in energy development in 2015.
"Bangladesh, being a country with a growing economy and a large population, will always run the risk of energy insecurity," said Michael Kugelman, senior associate for South Asia at the Wilson Center. "Thus, it will want to keep all options open when it comes to its pursuit of energy resources, including recourse to foreign investment. China, with its deep pockets and willingness to invest, will always be an attractive partner for Dhaka when it comes to seeking out energy investors."
Chinese investment in Bangladesh may spark concern in India, which shares a 2,582-mile border with the South Asian country and supported it during the Bangladesh War of Independence in 1971. Indian officials remain wary of China's role in Bangladesh's economy and the energy industry in particular.
"The two major powers in the region are India and China, and it is very much in Bangladesh's interests to maintain a good relationship with both," Lewis told The Diplomat. "The potential risk is destabilizing the country's complex relationship with India, which is currently fairly good. Chinese investment may be less politically sensitive to many Bangladeshis than Indian involvement."
Bangladesh and India resolved most of their territorial disputes in 2015, and India proposed a free trade agreement with Bangladesh last year. Bangladesh is working to balance the political importance of its ties to India with the financial promise of an improving relationship with China.
"Bangladesh does generate two major risks through its deeper ties with China," Kugelman told The Diplomat. "One is economic: Bangladesh runs the risk of finding itself in considerable debt. The other risk is geopolitical: Bangladesh's relationship with China's Indian rival has intensified over the course of the last five years, and, if Dhaka is seen to be moving closer to Beijing, this could cause some troubles for Dhaka's important relationship with New Delhi."
China has routed much of its support for foreign infrastructure such as power stations through the Belt and Road Initiative (BRI), an ambitious project to incorporate African, Asian, and European countries into its economic sphere of influence. While Bangladesh and several of its neighbors have received short-term benefits from the BRI, the loans that underpin Chinese involvement often come with long-term consequences: In the most startling example of predatory lending, Sri Lanka surrendered a Chinese-funded port to a Chinese state-owned enterprise after failing to repay its debt.
"China has become the superpower of this region," Saha told The Diplomat. "By moving closer to China, Bangladesh can gain more foreign direct investment and cheap energy. However, this comes with the risk of angering India, which might not be happy about Bangladesh moving so close to China. India has a big influence on Bangladesh and will always want to keep it away from China."
Bangladesh's outreach to China likely has more to do with the demands of economic expansion and energy consumption than with any tension with India, still one of Bangladesh's closest allies.
"India likely understands that, even if Dhaka moves closer to China, this is really for economic and energy reasons more than for anything strategic," said Kugelman. "Bangladesh will continue to value its relationship with India no matter how it pursues its relationship with China."
India continues to cooperate with Bangladesh on energy development while Indian experts frame Chinese investment in Bangladeshi power plants as a potential threat to India's national security.
"China already has significant investment in the energy sector—as does India," Saha told The Diplomat. "It is very important for Bangladesh to keep both countries happy by providing the same business opportunities for Indian and Chinese companies that have vested interests in Bangladesh."
If Bangladesh manages to exploit the balance of power between China and India without falling into either's sphere of influence, Bangladeshi executives and officials could still find themselves reaping the rewards of Chinese- and Indian-fueled economic development for years to come. The more the two world powers compete with one another over the energy industry, the more Bangladesh benefits.
"The projects won't generate much direct employment since they will likely use Chinese workers and materials," said Lewis. "But Bangladesh will benefit greatly from an improved power supply."
Last year, Bangladesh could generate as many as 16,000 megawatts of electricity, but the South Asian country will need to produce 34,000 by 2030 to sustain its current rate of economic growth. Bangladeshis may have to rely on China to fulfill this expensive requirement.
"Bangladesh will benefit from the construction of Chinese-funded power stations in a few ways," said Saha. "The energy produced by Chinese power stations is cheap, and China can repay Bangladesh indirectly by offering assistance in international affairs and at the United Nations in particular. China can also provide Bangladesh cheap products in exchange for the chance to do business in Bangladesh."
With the second-largest economy in the world and a seat on the UN Security Council, China has the capacity to provide Bangladesh diplomatic and financial support that few of the South Asian country's other allies can afford. Whatever the risks of accepting Chinese investment in power stations and opting to participate in the Belt and Road Initiative, the rewards for Bangladesh appear substantial, and China, a world power with money to spare, likewise stands to gain from tying itself to Bangladesh.
"If the power stations run well and are affordable for Bangladesh to maintain, they amount to a win-win," Kugelman said of the South Asian country's economic and energy policies. "Bangladesh expands its power supply while reaping the benefits of Chinese capital and technology."
Austin Bodetti studies the intersection of Islam, culture, and politics in Africa and Asia. He has conducted fieldwork in Bosnia, Indonesia, Iraq, Myanmar, Nicaragua, Oman, South Sudan, Thailand, and Uganda. His writing has appeared in The Daily Beast, USA Today, Vox, and Wired.