After Trump-Xi Call, US-China Interactions Expand, But Direction Remains Unclear
Trump's affirmation of the United States' 'one China' policy has allowed for more high-level U.S.-China activity.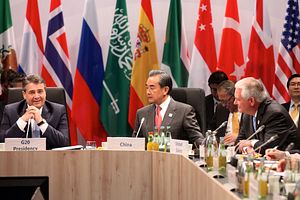 Just two weeks ago, the Trump administration's interactions with China had been surprisingly muted — even as the new U.S. president drew headlines for his sometimes creative diplomatic antics with other countries. Finally, on February 9, Trump spoke to Chinese President Xi Jinping on the phone and affirmed that the United States would continue to abide by the "one China" policy. Trump had thrown expectations for smooth U.S.-China ties into flux during the presidential transition after he received a congratulatory phone call from Taiwanese President Tsai Ing-wen, then publicly questioned the wisdom of the U.S. commitment to the "one China" policy.
The February 9 phone call appears to have accelerated the pace of high-level U.S.-China interactions. It also helped that Trump's nominees for cabinet positions received Senate confirmation in the meantime. In recent days, both Trump's secretary of state, Rex Tillerson, and secretary of the treasury, Steve Mnuchin, have spoken to senior Chinese officials. Tillerson was confirmed days before Trump's phone call with Xi and Mnuchin was confirmed last week. Tillerson additionally met with Chinese Foreign Minister Wang Yi in Germany, on the sidelines of the G20 foreign ministers meeting, marking the highest-level face-to-face U.S.-China interaction since Trump's inauguration.
According to Mark Toner, acting spokesman for the U.S. State Department, "Secretary Tillerson and Minister Wang noted the recent call between leaders and discussed efforts to advance bilateral cooperation while addressing differences in a constructive manner."
"Secretary Tillerson also highlighted the increasing threat posed by North Korea's nuclear and missile programs and urged China to use all available tools to moderate North Korea's destabilizing behavior," Toner added. The Tillerson-Wang meeting came in the aftermath of North Korea's first ballistic missile test of 2017. The two also followed up with a phone call on Tuesday.
Also last week, Mnuchin spoke with a range of senior Chinese officials, including Chinese Vice Premier Wang Yang, Minister of the Office of the Central Leading Group on Financial and Economic Affairs Liu He, People's Bank of China (PBOC) Governor Zhou Xiaochuan, and Chinese Minister of Finance Xiao Jie. According to a U.S. Treasury Department readout of these calls, Mnuchin "underscored that he looked forward to fostering strong U.S.-China engagement during his tenure" and "emphasized the importance of achieving a more balanced bilateral economic relationship going forward."
The latter statement is significant in the context of the Trump administration. The U.S. president — along with several of his senior economic advisers, including National Trade Council chief Peter Navarro and Trade Representative Robert Lighthizer — has criticized China for unfair trade practices. During the campaign, Trump promised to label China a currency manipulator, alleging that Beijing is artificially suppressing the renminbi to benefit its exporters. (The PBOC is in fact trying to prop up the renminbi to stem capital flight right now.) The inclusion of a statement calling for a "balanced" economic relationship in Mnuchin's calls is yet another sign that the United States and China could undergo some bilateral friction as a result of the Trump administration's economic priorities.
As I'd discussed earlier this month — before the Trump-Xi phone call — China may be willing to engage in "friendly consultations" over economic issues, addressing some of Trump's complaints about trade and monetary policy. Beijing has said little else on the matter publicly, apart from emphasizing that good economic relations between the two countries are mutually beneficial. Publicly available information about the Trump-Xi call so far has been limited, but the two leaders may have broached these topics directly in their call. China, for the moment, is taking care to emphasize common interests. The Chinese Foreign Ministry's readout of the Tillerson-Wang meeting, for example, emphasized that "common interests between China and the U.S. far exceed divergence."
Despite these high-level contacts, there remains considerable concern in China — like in other states — that the U.S. foreign policy-making process remains bifurcated between the White House and the broader executive branch bureaucracy, with the influence of individuals like Tillerson, Mnuchin, and even Secretary of Defense Jim Mattis under question. With the one China question resolved for now and economic questions on the agenda, one important area of uncertainty is how the Trump administration will choose to push back against Chinese interests in the South China Sea. Indeed, as Tillerson and Mnuchin spoke to their Chinese interlocutors, a U.S. carrier strike group arrived in the South China Sea for "routine patrols," which China has strongly opposed.
China has emphasized that the Trump administration presents an opportunity to rethink U.S.-China relations from "a new starting point," but it's unclear if the trend-line from that starting point will be upward or downward sloping. For now, both Washington and Beijing are taking things one step at a time, but the potential for a downward spiral hasn't fully dissipated.